Creating and Editing Accessible EPUB (W)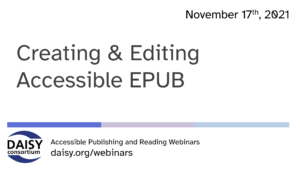 In our series of free weekly webinars November 17th saw a session focused on "Creating and Editing Accessible EPUB". This webinar follows our previous session on Validating and Conformance Checking EPUBs.
This page contains:
Full Video of the Webinar
Speakers
Dawn Evans, AccessText Network—host and chair
Richard Orme, DAISY Consortium
Amit Verma, InDesign Trainer
Marianne Gulstad, Publizon
Session Overview
Dawn Evans introduced today's session by explaining how the panel of experts would guide us through a journey from content creation in mainstream tools and conversion processes, to how the resulting EPUB can be edited and amended to deliver accessible content for use by anyone.
Workflow Options for Accessible EPUB
InDesign
Amit discussed how to produce accessible content using InDesign:
Why and When to Use InDesign. InDesign is used by content creators to produce both print and digital publications. Once you have converted your InDesign file to EPUB there are a number of modifications that can be made to improve the overall accessibility of the content.
How to Use Accessible EPUBs with InDesign. Very often we hear that InDesign does not produce good EPUB files but if certain steps are followed, much of this can be avoided: use well-defined styles, anchor the images at the correct places, add ALT text to images and define the layout order using the story or articles panel, generate a well-defined TOC, insert chapter breaks and last but not least, making sure that the content structure is well defined with the correct HTML mapping headings. Watch the webinar recording to see examples of these.
InDesign + Circular Software. At this point in the webinar, Richard Orme conducted a brief interview with Ken Jones, Founder and Director of Circular Software to hear what he has been working on to make this process easier. The "no code accessibility" tools that Circular software has developed assist with the export of InDesign to accessible EPUB, making this a much easier process for users.
PressBooks, Hederis: Web-Based Services
Richard talked us through both of these platforms, with consideration given to the accessibility support offered and how he found the experience. Both platforms fared well in his assessments and it's worth checking out both in the recording or transcript for details.
Google Docs, Apple Pages, Word: Word Processing Options
Richard discussed these options and the accessibility support they offer, emphasizing that in all cases it is vital to start with a well-structured document. Google Docs offers a "nearly valid" EPUB with some limitations which were outlined. Sadly an EPUB generated from Google Docs is not really fit for purpose in terms of accessibility.
Using Apple Pages resulted in "valid" EPUB. There are some missing elements but overall it is fairly clean.
And finally, Microsoft Word using WordToEPUB which also produces "valid" EPUB with the option to include many other accessibility features on top of the basic set including being able to integrate quality assurance tools to check accessibility (such as Ace by DAISY).
Editing EPUB to Improve Accessibility
Marianne Gulstad described the two ways to edit EPUBs:
you can unzip the EPUB container and use any editing tool to change the text before using a specialist tool to rezip the EPUB archive.
or you make life easier and use an EPUB editor. There are a number of EPUB editors that can open, edit and save edits such as Sigil, Calibre, Oxygen, Scrivener, Jutoh and Blue Griffon. Marianne took a close look at Sigil giving lots of examples and demos and showing how this editor can be used to check the EPUB using EPUBCheck.
Related Resources
EPUB testing
InDesign Resources
Web-based EPUB Production Services
Note: many other web-based EPUB conversion and production tools exist, this is not a comprehensive list or an endorsement of these services over others.
GrackleDocs – Google Docs accessibility plugin
Desktop EPUB Production Tools
Useful Sigil Tutorials
https://inclusivepublishing.org/wp-content/uploads/2021/11/cover-image.png
1438
2559
Sarah Hilderley
https://inclusivepublishing.org/wp-content/uploads/2017/10/logotype-sized-for-web.png
Sarah Hilderley
2021-11-23 14:50:32
2021-11-23 14:50:32
Creating and Editing Accessible EPUB (W)