Ace by DAISY, Accessibility Checking Tool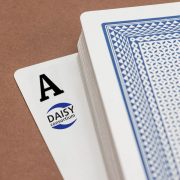 The DAISY Consortium has developed an open source accessibility checking tool, Ace by DAISY, which is now in the last beta stages of development. The full release of Ace 1.0 is scheduled for the end of January 2018, and now is the ideal time for publishers and content providers working with the EPUB 3 format to ensure they are ready to embrace this new addition to their workflow.
This ground-breaking new tool will help your company meet industry requirements of accessible procurement, and produce higher quality, standards compliant publications. Your production teams can be reassured that they are performing the necessary checks to ensure that your content is accessible as possible and, as a result, meeting the needs of all your readers. It will also enable distributors and consumers to verify the accessibility claims of publishers.
The Ace tool performs a variety of automated checks to assist in the evaluation of conformance to the EPUB Accessibility Specification and against the rules defined in WCAG, ARIA, and HTML, producing a list for the manual checks that need to be performed, as well as data visualizations to aid the process. Ace, by DAISY can be usable as a standalone tool, or can be integrated as a third-party component in broader publishing workflows or authoring processes.
Ace is currently a command line tool and there are step-by-step instructions on how to install, update and use the tool available at https://inclusivepublishing.org/toolbox/accessibility-checker/getting-started/.
It is impossible to perform a complete evaluation of accessibility requirements in a fully-automated manner. Some criteria require manual inspection and, consequently, Ace by DAISY does not claim to be a yes/no validator or a certification tool. It will not issue an accessibility score, percentage of conformance, etc. It is not intended to be used for repairing inaccessible content. In addition the tool will not be able to analyze encrypted content or any other DRM-protected EPUB that cannot easily be unpackaged.
Get Involved
This is the perfect time to encourage your technology teams to engage with this beta release to help shape this last phase of development advance of the release in January. We are actively seeking feedback on this beta 3 release, and welcome contributions from experts in the publishing sector. Find out how to use the tool with our Ace Getting Started guide including details on how to update from earlier beta versions. You might also consider helping to prepare your in-house teams to be ready for the full release so that you can build accessibility requirements and testing into your product development at various stages.
If you are unable to participate in the beta testing, please subscribe to our newsletter for the latest Ace updates and other industry news.