Global Accessibility Awareness Day 2019: A Publisher's Toolkit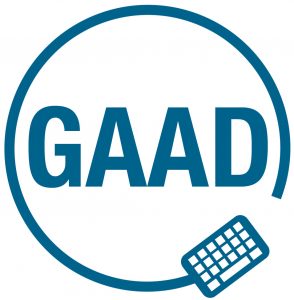 GAAD takes place on May 16 this year and we'd like to encourage all our readers to take part so that we can build awareness in our industry and play our part to increase the availability of your digital content to people with print disabilities. If you have an accessibility advocate then this is their chance to co-ordinate activities. If not, then perhaps you can encourage your own team or teams that you work closely with to participate.
In 2018 there were some exciting in-house events to do just this and we have put together some ideas to help you organize something in your own company this year. It might be an event surrounding awareness building and advocacy or it might be a more technical dive into what makes an accessible ebook. Whatever you choose, please send us the details so that we can tell others about your good work and build on this for future events.
We have lots of ideas to get you started:
Awareness Building
Put together a blog piece in advance of your event. This will help to raise awareness amongst your colleagues about what you plan to do on May 16th. We have resources and tools that you can include in your post to spark interest and encourage questions! A good place to start is our Introduction to Inclusive Publishing.
Check out your website: do you have an accessibility statement about your digital content? If not then perhaps you can set about writing something on GAAD.
Hold a social event—we can email you some flyers on accessibility to help you educate your colleagues. It's time to celebrate!
User Experience
GAAD is a great chance to find out for yourself what it's like to be a print disabled reader. You can put together all manner of sessions to focus on this but here are a few ideas:
Go mouseless for an hour—unplug your mouse and only use your keyboard (tab/shift tab, arrow keys, enter and spacebar) to navigate and interact with content.
Experience reading using assistive technology – try 10 minutes with a screen reader for example
You may wish to set up a UX booth in a communal area within your organization. This can be a physical booth or just an area where your colleagues can experience accessibility features such as Voice Over. See last year's report from Houghton Mifflin Harcourt who did just this.
Try your hand at writing image descriptions—collect a few images from the content that you publish together with some contextual information. See how your colleagues fare in writing alt text! For guidance on this see the variety of resources that we have on Rich and Complex Content.
Accessible EPUB
GAAD for Geeks! If you can it would be very helpful if your technical ebook developers can run a demonstration of what makes an EPUB accessible. The benefits of using EPUB 3 are significant for accessibility and a short presentation about this would greatly increase understanding of the technical advantages of building a11y in from the very start of the content creation process. See our top tips page for some guidance on this.
Ask the Expert! EPUB for non-technical teams. Try running something similar for your non-technical teams. They may not need to know the technical details but will appreciate and understand information on how your content production teams are handling accessibility for mainstream product. Our EPUB resources pages for publishers will be able to give you some pointers on this.
Whatever you decide to do in your own organization we applaud you! This is a terrific opportunity to create a focus amongst your team and encourage support for Inclusive Publishing. We would very much like to hear from you about your events so that we can let others know what you've been up to! Contact us here.
https://inclusivepublishing.org/wp-content/uploads/2019/03/gaad-keyboardlogo-1.jpg
1127
1103
Sarah Hilderley
https://inclusivepublishing.org/wp-content/uploads/2017/10/logotype-sized-for-web.png
Sarah Hilderley
2019-04-16 18:25:12
2019-06-01 21:33:54
Global Accessibility Awareness Day 2019: A Publisher's Toolkit