World-Leading Book Accessibility Initiative Creating the Dignity to Read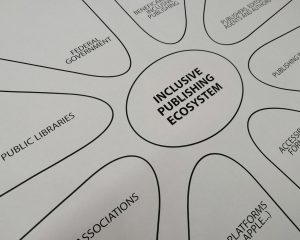 Thirty individuals from more than 20 organizations met last week at Barangaroo for the third forum of the Australian Inclusive Publishing Initiative (AIPI) which is uniquely comprised of representatives from the ecosystem that makes books accessible to people with print disabilities, including libraries, publishers, authors, editors, print disability peak bodies, copyright experts, and government agencies.
Reflecting on two years of work since the first Marrakesh Treaty Forum, the AIPI mapped the next steps towards an accessible future of creating books to ensure all people, regardless of ability, have the dignity to read.
The AIPI was created in 2016 to address concerns that people are missing out on the joy and learning experience of reading books. It can take up to a year to convert a traditional book into a version that is suitable for someone with vision impairment or a print disability.
International book accessibility expert, Bill Kasdorf, opened the AIPI forum via web cast, commenting that the collaborative efforts of the Australian cohort is world-leading and inspirational. "There are other publishing industry groups across the globe that are further ahead in terms of technology, but the wide group of stakeholders AIPI has is actually world-leading, innovative and will ensure sustainability of outcomes," Kasdorf said.
Josie Howse, a world authority on braille and large print services from the NSW Department of Education, has "never been so excited" by the developments in the print disability space. "In more than 30 years that I have been working on copyright access to files for people with vision impairment, this is the most exciting time I've experienced. The progress and stimulation felt with our third AIPI get-together is significant."
Historically, print accessibility groups have come together but never with as many organizations under the one banner. "There was a round table for print disability in 1988 and an annual meeting since," Ms Howse continued, "but the dynamics of now, largely due to the driving force of the Australian Publishing Association, is what's making the difference."
The fact we've progressed so much in a year, and we have achievable targets involving the widest group of stakeholders from publishing and the disability advocacy space, demonstrates the great momentum and opportunity we currently have.
Sonali Marathe from the Royal Institute for Blind and Deaf Children says this momentum through collaboration wasn't always the case, "Two years ago, there was a divide between publishers and the print disability sector, but now we are a cohesive group. It's a game-changer for the goal of creating book formats for all abilities to read and enjoy. The needs of people with a print disability is more widespread than some might think. Data from The Australian Bureau of Statistics highlights that there are one in five people in the community living with a permanent disability. Furthermore, more than 20% of these have some form of print disability which inhibits their experience of a standard print book. This initiative will enable so many more people to read for purpose and enjoyment."
The AIPI working meeting ,with representatives from both sides, has resulted in a strong set of goals for 2019. Jess Coates from the Australian Digital Alliance said, "This year was particularly productive and has built nicely on previous years. The first year was big and I think we felt trepidation in what we were trying to achieve. The second year we had a lot of enthusiasm as a group and in 2018, we've been able to see outcomes. After the meeting today, you can say that things are really happening.One key task the group will work on," Ms Coates says, "will be to create a digital knowledge hub. People have been asking what AIPI is doing and when this web platform is complete we will have a space to showcase what the group and industry has done. We will be able to share information about the regulatory framework publishers need to work within, guidelines for publishers and disability services personnel, and also conversations from the global context about developments in the inclusion and book accessibility milieu."
The overarching challenge that the AIPI is working towards is called born-accessible publishing. This is where a master file holds the content of the book, which can then be exported into any format required: braille, audiobook, large font and more. It's a process that requires new workflows for publishers, but one that has been piloted successfully by Sydney University Press (SUP). AIPI member and SUP Publishing Manager, Agata Mrva-Montoya, has shared her experience of creating born-accessible files through EPUB. One of the most time-consuming aspects of making a book's content accessible is in describing images through what is called alt-text. "The alt-text of images in our workflow now goes to authors. They are best placed to provide content to describe any images in their books, so we get authors to write the alt-text and then we simply copy it in. It saves a lot of time and ends up being better content,"
Changes to the regulatory framework in which publishers operate are accelerating the need to find solutions. Since 2010, if a publisher has created a book that is not available in formats that consumers require, they are potentially in breach of the Disability Discrimination Act 2005. Lee Walker, President of the Australian Publishers Association and Director of School Publishing at Oxford University Press, says that besides the inherent desire to help more people to read books, "The changes in the legal space are key drivers for publishers to consider how to meet the problem of changing workflows. We want to create texts in various formats with ease—while safeguarding copyright for authors and publishers in the process.The print disabled community is quite vast. When you consider the ageing population, people with degenerative muscle disorders who can't hold books, people with dyslexia—the market of people requiring books in non-traditional formats is not as narrow as one might first imagine."
Greg Alchin, a member of AIPI from All Equal, explains the situation the book industry is in: "The book industry has a simple choice. They can either embrace publishing digital books to international accessibility standards or not. Accessible standards and modern formats such as EPUB enable publishers to reach a greater market, maintain better copyright control and diminish legal risks. Conversely publishers who choose to produce electronic books in outdated formats such as PDF fail to comply with accessibility standards and put themselves at great risk of lawsuits for not providing equal access. It's like airbags with the car industry. By choosing to incorporate substandard airbags it has opened the industry to compensation lawsuits as well as the costly task of retrofitting better quality airbags in. The publishing sector stands to find itself in legal trouble if they don't make changes soon. On a positive note, Australian publishers are making efforts to make their books more widely accessible and the AIPI group is working together to ensure their changes are fit for purpose,".
The ultimate goal of AIPI is to make it as easy as possible for publishers to produce born-accessible content to the benefit of all readers. The AIPI group will continue to work towards a number of identified projects across the year. Further updates will be published on the APA News and the, soon to be developed, AIPI Knowledge Hub.
Inclusive Publishing will update its readers on AIPI's progress and the projects that are identified for the future year.
This report was kindly submitted by The Australian Publishers Association. All images have been supplied courtesy of the Australian Publishers Association
https://inclusivepublishing.org/wp-content/uploads/2018/11/Dq9WXE6UwAAuyqq-1.jpg
892
1113
Sarah Hilderley
https://inclusivepublishing.org/wp-content/uploads/2017/10/logotype-sized-for-web.png
Sarah Hilderley
2018-11-08 18:25:23
2018-11-27 15:36:09
World-Leading Book Accessibility Initiative Creating the Dignity to Read