Why the Right Kind of eLearning Content Is Important for an Effective Training Program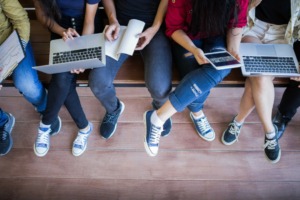 Coming up with impactful eLearning content can be a complicated process with different facets to it. It is essential to create eLearning content that arouses the curiosity of learners and keeps them engaged for the entire duration of the course. At the same time, the content needs to be relatable to your target audience and ensure long-term knowledge recollection. The last requirement assumes greater significance given the absence of an actual instructor and any person-to-person interaction.
eLearning content that you develop should be relevant to the current times; accessible to all kinds of learners, including those with different abilities; and SEO-friendly to help it rank high on search engines. Based on these principles, eLearning solutions can be broadly categorized into three: learning experience, performance supporting, and informative.
Content that is aimed at helping build skills and behavior can be classified as a learning experience. This aims at long-term goals rather than giving instant results. Performance-supporting eLearning solutionsmake use of resources and learning tools to quickly empower the learner to perform a task satisfactorily.
Informative eLearning content takes the middle path by supporting learning performance while providing all the necessary information. Digital brochures and product knowledge guides are examples of informative content.
You will find these categories of content in corporate and educational eLearning solutions. The first step toward creating the right kind of eLearning content is to identify the types of eLearning content that best suit your learners' requirements. Once you zero in on that, it's time to consider the modules that will have maximum impact on your audience.
Some of the popular formats of eLearning modules include slides, training videos, quizzes, podcasts, and eBooks. You can also opt for advanced eLearning content formats such as interactive videos, virtual reality (VR) and augmented reality (AR) simulations, and impactful games. VR simulations are often found in training or education programs in the health care sector. When you have the right kind of content, your training program is sure to be effective and result in desired outcomes.
Organizations such as Amnet can help you with bespoke corporate eLearning solutions in a format appropriate to your needs. We can also assist with preserving your legacy eLearning content by ensuring its seamless digital transformation to new age formats. Our services ensure enhanced accessibility and a consistent learning experience for your learners.
This piece was submitted by Inclusive Publishing Partner, Amnet Systems
https://inclusivepublishing.org/wp-content/uploads/2022/02/amnet.jpg
720
1080
Sarah Hilderley
https://inclusivepublishing.org/wp-content/uploads/2017/10/logotype-sized-for-web.png
Sarah Hilderley
2022-02-15 14:48:24
2022-02-15 14:48:24
Why the Right Kind of eLearning Content Is Important for an Effective Training Program