Create EPUB Publications from Word with a Simple Tool Anyone Can Use (W)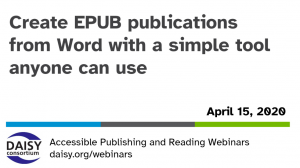 In our series of free weekly webinars April 15th saw a session focused on the WordToEPUB tool recently developed by The DAISY Consortium. WordToEPUB is free, simple and straightforward method of converting structured Word documents to valid and accessible EPUB files.
This page contains:
Full Video of the Webinar
Speakers
Dawn Evans, Access Text Network—host and chair
Richard Orme, DAISY Consortium
Joseph Polizzotto, UC Berkeley
Erin Williams, Microsoft
Prashant Verma, DAISY Consortium
Session Overview
WordToEPUB has been developed to provide a simple, easy to use tool that can convert accessible word documents into fully accessible EPUB files. Richard Orme began by explaining this process, thanking everyone who contributed to this project for their support. There are many situations in which this new tool is already proving invaluable, going beyond the standard publishing workflow—word documents are produced in many environments, commercial, public, government etc etc. The list of use cases for which WordToEPUB is relevant is long!
There are many use cases that require simple, practical workflows for creating accessible and flexible materials
Erin Williams, from Microsoft, spoke about the support that MS has for this new tool and how it is in harmony with the accessibility checker that MS Word already has built-in. This checker assesses the accessibility of word documents—success at this stage is vital. WordToEPUB can't invent accessibility features so the the accessibility of the original word document is very important.
The design goals of the WordToEPUB tool include: straightforward and accessible installation, simple usage, different language support, extensible as users need. Richard Orme then demonstrated how these goals have been met with a live demo which you can see on the webinar recording.
Joseph and Prashant both discussed use cases in academic environments and environments with low resources and basic skill levels. WordToEPUB has been quickly adopted by many organizations already, proving that:
With a structured and accessible document, making a great EPUB from Word is now simple and accessible
Related Resources
https://inclusivepublishing.org/wp-content/uploads/2020/04/Screen-Shot-2020-04-16-at-21.01.26.png
627
1117
Sarah Hilderley
https://inclusivepublishing.org/wp-content/uploads/2017/10/logotype-sized-for-web.png
Sarah Hilderley
2020-04-22 21:58:46
2020-04-22 21:58:46
Create EPUB Publications from Word with a Simple Tool Anyone Can Use (W)