Reflections from Accessing Higher Ground 2019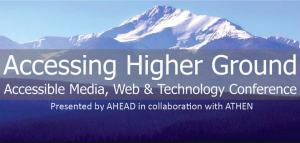 As we reflect on the Accessing Higher Ground Conference and look ahead to the new year, it's clear that higher ed will continue to build an increased focus on accessibility. In an all-out effort to avoid falling victim to the triple-digit increase in digital accessibility lawsuits over the last few years, the higher ed community has been largely focused on getting its arms around the ins and outs of IT accessibility, governance, documentation, and remediation. Specifically, there has never been a more important time than now for institutions to place an increased focus around equitable and accessible learning materials. 
Nearly one in five college students have some type of disability, but on average only 11 percent of all undergraduate students formally register with a Disability Services Office (DSO). That means most institutions aren't aware of the more than half of students with some form of disability or accessibility need. We are no longer in the age of a "one-size-fits-all" approach to instruction and learning. In the spirit of "accessibility helps everyone," more and more campus stakeholders are embracing the universal design and inclusion mentality.
This year's Accessing Higher Ground (AHG) Conference felt like the first major shift toward putting the student learning experience first. Thanks to conferences like AHG and the CSUN Assistive Technology Conference, the higher ed community now has a foundational understanding of what it takes to lead accessibility initiatives on campus. This has allowed us to turn inward⁠ to the heart and soul of our institutions: the student learning experience.
One of the themes for this year's sessions was focused around the equitable and accessible learning experience. An attendee who wanted to learn more about universal design and inclusion could curate an entire week of sessions around these subjects. From a workshop on the process of inclusive design, to tips on helping instructors and faculty understand the importance of usability, to planning for the variability of learners with universal design for learning (UDL) principles, this year's sessions covered a wide range of topics. 
Another emerging theme from the conference was around "born accessible" EPUB in the higher ed space, driven by two of the world's biggest accessibility rock stars, George Kerscher and Richard Orme. The publishing industry is beginning the shift from PDFs to more accessible EPUB formats in order to provide the best possible experience for all. George and Richard conducted workshops designed to demystify the world of EPUB, provided how-to sessions on creating and remediating EPUB, and chaired panels of key educational publishers showcasing the accessibility features of their EPUB titles. 
In addition to the forward-thinking sessions and discussions, an important piece of the conference went back to the basics of accessibility. As accessibility becomes increasingly more essential within higher ed, sessions and workshops around understanding accessibility laws and associated documentation, successful testing methods, and emerging assistive technologies were helpful for all of those looking to gain a base understanding. 
This year RedShelf was thrilled to share a presentation around helping campus stakeholders understand the importance of adopting accessible course materials. In order to create lasting change around accessibility, institutional stakeholders like publisher representatives, faculty, campus store managers, and accessibility offices need to be engaged. 
Knowing the importance of stakeholder involvement, one of the biggest initiatives of RedShelf's accessibility team is educating our campus partners on the importance of adopting EPUB titles every term. Helping our partners understand why an EPUB is more effective than a PDF empowers them to create a groundswell on campus to ensure that everyone from individual faculty to admin offices is making sure course material accessibility needs are being met. While change is oftentimes difficult and institutional processes can be inflexible, we take pride in supporting each campus in their journey from accessible adoption to accessible delivery.  
The AHG Conference always feels like an opportunity to put the finishing touches on our yearly quest for accessibility as a requirement, not a feature, and look ahead to our ambitions for the new year. We are all truly accessing higher ground each November by learning, networking, sharing ideas, and seeing old friends and making new ones. I am proud to be aligned with such thoughtful and influential people helping to make the world a better place.  
Cheers to a prosperous and accessible 2020!
Our thanks to Erin Lucas for kindly submitting this article. Erin is Senior Director for Digital Accessibility at RedShelf, an Inclusive Publishing Partner.
https://inclusivepublishing.org/wp-content/uploads/2019/12/Screen-Shot-2019-12-08-at-16.21.40.png
343
718
Sarah Hilderley
https://inclusivepublishing.org/wp-content/uploads/2017/10/logotype-sized-for-web.png
Sarah Hilderley
2019-12-09 13:44:46
2019-12-09 18:10:19
Reflections from Accessing Higher Ground 2019