Ignore Those Bells and Whistles
This article was kindly submitted by Kevin Callahan, ebooks developer and proprietor of bngobooks.com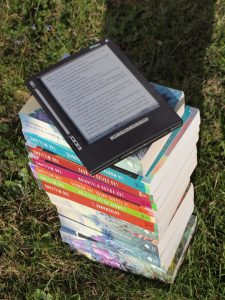 There's too much discussion in the ebook-making world about bells and whistles and EPUB3. Folks don't want to make EPUB3 files because, who needs Javascript anyway? Kindles certainly don't. How many books in their right minds need video? Very few. But many of these so-called bells and whistles aren't that at all – they are simply regular features that you might find in some books but not necessarily all.
Features which, by their very nature, ensure that your ebooks reach a wider audience…
Ding Ding Ding
Understandably, no one wants particular features if they aren't going to work everywhere. Scripting, MathML, audio and video: there's no denying that support is spotty.
Talking about bells and whistles and how they're not supported is a great way to keep the conversation limited to ebook developers and out of reach — or interest — of people in publishing. You know, our clients. Authors, editors, designers.
That's why I'd like to banish that phrase and instead talk about real-life book features that our colleagues can get excited about. Features that are already in books and that can be boosted in the ebook edition and that will enrich the reading experience for all readers. Features that improve the accessibility of ebooks.
It's All About Books
Let's talk about the ordinary, everyday book: a novel, a memoir, a bit of history or politics. In other words, a book that's mostly text, with a few images, a bibliography and maybe a glossary, perhaps a few tables.
Those elements aren't bells and whistles.
They are parts of a book.
The same with tables of contents. Not every print book has one, but many do. So when included in an ebook, they don't ring any kind of bell. They just live there, naturally.
When we organize a book, we use simple, straightforward hierarchies: what's the book title (h1 in ebook-speak)? Chapter number and title (h2)? No bells and whistles here, just book stuff.
If we include a glossary, we prepare the manuscript so that glossary terms and their definitions each have the correct tags. No pealing bells here.
When we add a table of illustrations to go along with the table of contents, we're not proposing anything unusual.
We're just making the book more accessible. And when a book is accessible, it's easier to use for everyone. It's the same whether that book is a print edition or a digital one.
Why Resist?
I've wondered about the cause of the resistance, and I have an idea. Quite a while ago a client wished for a one-click solution to ebook making. Well, it's available if InDesign is your source document. It is possible to export a valid EPUB from InDesign and just put it up for sale.
I sympathize with this stance. If sales aren't there to support an hour or two of an ebook developer's time, then I see why a publisher would shy away from doing further development. But: chicken, egg? Spend the time, plan to add simple book features — features you wish you had room to fit into print — and your readers will notice and buy your next book because its a better read for them, because its more accessible.
It's Not Technical
One stumbling block for a lot of editors, designers, and even ebook developers is that it all seems so technical. Non-book-world verbiage, indecipherable version numbers, unfamiliar interface, no feel of paper or smell of ink. But think back to when we just had print – the lexicon was exclusive to many non-production people – CRC, formes, galleys, the list is endless.
ABut all you need to keep in mind is that EPUB3 lets a book be more like the books you cherish on your bookshelves. More text, more features that don't fit into the page count, better structure that will survive future reading systems and thrive there. EPUB 3 helps us make sense of this new digital world – it allows us and our readers greater access.
It's Also About the Future
Future reading systems? Yes, new and different reading systems will come along. Work is ongoing to improve e-reading software. So for an editor who needs her ebook edition of Moby Dick to be as readable in that future state as her paperback, the best idea is to make EPUB3 files now.
We Are All Book People Here
A book is a book, in whatever format. As a print designer, I take care with the print edition, nudging design elements, making sure styles are consistent, establishing clear hierarchy through typography. I'm going to want to do the same thing to the ebook edition. I'll add tables of contents that are as complete as possible, make hierarchy clear through proper tagging, and ensure elements are marked up consistently. Like I said, an EPUB3 is just like a print book, only moreso.
More Thoughts
On epubsecrets.com, Laura Brady mused about the slow adoption of EPUB3, and countered several common arguments. Click here to read her take On the Slow Adoption of EPUB3.
Also on epubsecrets.com, Dave Cramer, cochair of the W3C's EPUB3 Community Group, wrote about versioning, the differences between EPUB and the Web, and how we can create ebooks that utilize existing technology, old technology, and technology yet to come. Read "Good Enough: A Meditation on the Past, Present and Future of EPUB" here.
In the December 2017 edition of InDesign Magazine, I wrote the cover article on creating accessible EPUB3 files right out of InDesign. It can be done with minimal change in the workflow. Click here to access the article
Kevin Callahan is an ebook developer who writes and speaks about ebook design and production. He trains other developers — and everyone else in the publishing community — on best ebook–making practices. He specializes in adapting simple and complicated print designs to their best digital use. Kevin will be hosting webinars for the Editorial Freelancers Association and Editors Canada throughout 2018.
www.bngobooks.com  Twitter: https://twitter.com/bngobooks Facebook: https://www.facebook.com/BNGObooks/
https://inclusivepublishing.org/wp-content/uploads/2018/04/books-1176150_1920.jpg
1920
1440
Sarah Hilderley
https://inclusivepublishing.org/wp-content/uploads/2017/10/logotype-sized-for-web.png
Sarah Hilderley
2018-04-25 13:08:10
2018-04-25 15:40:56
Ignore Those Bells and Whistles