A World Tour of Inclusive Publishing Initiatives (W)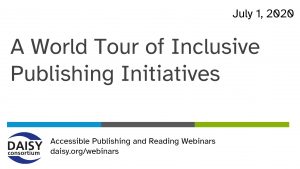 In our series of free weekly webinars July 1st saw a session focused on activities taking place globally to promote inclusive publishing practices.
This page contains:
Full Video of the Webinar
Speakers
Richard Orme, The DAISY Consortium—host and chair
Hugo Setzer, Manual Moderno and The International Publishers Association
Deborah Nelson, eBound Canada
Brad Turner, Benetech
Kirsi Yianne, NIPI and IFLA
Session Overview
This week we mixed things up a little and had a brief whistle-stop tour of what is happening around the world before opening up to our esteemed panel for a larger discussion for the greater portion of the webinar. Richard Orme guided us through various initiatives from a variety of countries. There is so much happening and this is a truly exciting time for accessible publishing everywhere. We hope that some of the initiatives presented will inspire you in your market and help you to further the good work within the publishing industry.
During this time we also ran a poll to find out where our audience hails from: 56% from North America, 30% from Europe, 9% from Asia and 5% from South America so we were delighted to have such a global audience with us on this journey.
Panel Discussion
The discussion opened with a lively chat focusing on a few key themes as listed below. For a fuller overview we recommend listening to the video recording.
The Accessibility Eco-System
Hugo Setzer empahisized the importance of an entire eco-system that works together to achieve accessible experiences. Deborah Nelson sees awareness of vendors as being a hurdle within the eco-system and how we should be encouraging users to motivate these partners into action.
End User Awareness
Kirsi Yianne discussed engagement with end users to drive awareness. NIPI have worked hard to understand the needs of print disabled readers and how their needs should involve the entire eco-system.
Supporting Regulation
Kirsi Yianne reminded us all that the European Accessibility Act will come into force in 2025. Standards are vital to help with compliance to the new rulings.
International Standards and Compliance
All our panelists commented on the importance of international standards to drive compliance.
Brad Turner explained how the Benetech GCA Certification System is underpinned by international standards. GCA uses WCAG Level 2 as their gold standard. Compliance in the USA tends to be at an educational level and Higher Ed establishments are looking to publish accessible materials.
Deborah Nelson told us about the plans in Canada to develop a certification scheme as a result of their Landscape Research report. eBound Canada plans to run a pilot of the Benetech GCA scheme to see what certification will look like for 250 independent Canadian publishers.
Advocacy,Training and Expert Support
Training and awareness is a major portion of the Canadian research project and Deborah Nelson puts the end user at the very center of this project, helping to build a knowledge base and an understanding of accessibility needs.
The work of organizations such as DAISY, WIPO & ABC drives awareness building. Hugo Setzer pointed our audience towards the practical training tools provided by ABC, commenting that may publishers around the world are working hard to ensure the accessibility of their content.
Call to Action
Each panelist was asked to briefly tell us what our main takeaway from this session should be: a call to action
Deborah Nelson: Make sure you are able to communicate the business case
Brad Turner: Learn about Born Accessible and take the first step by reaching out for help
Hugo Setzer: Sign the Accessible Publishing Charter which is available in 7 languages from ABC
Kirsi Yianne: Do not wait until 2025 for the European Accessibility Act. Start learning now
In a final poll about the greatest perceived challenges to implementing inclusive publishing practices the webinar audience voted as follows:
33% Business case is hard to make
30% Do not know where to start
30% No strong laws to make it happen
7% The tools don't exist
Related Resources
https://inclusivepublishing.org/wp-content/uploads/2020/07/worldtourslide1.jpg
1440
2558
Sarah Hilderley
https://inclusivepublishing.org/wp-content/uploads/2017/10/logotype-sized-for-web.png
Sarah Hilderley
2020-07-07 11:15:40
2020-07-07 11:16:00
A World Tour of Inclusive Publishing Initiatives (W)