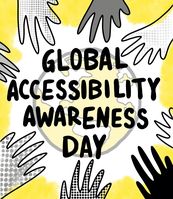 Global Accessibility Awareness Day 2022  (#GAAD) took place on May 219 this year and we put together some tools and resources to encourage partners, publishers and industry bodies to promote awareness amongst colleagues. Building on activities from previous years we saw our industry actively up their game this year and get more involved in educating colleagues and customers who are busy playing their part to increase the availability of digital content to people with print disabilities, despite the challenges of the past couple of years. Congrats to all who took the time and made the effort to reaffirm their commitment to accessible publishing by marking this event in some way. We were amazed by the recognition that you gave to GAAD and urge you to continue in this vein.
Our publishers toolkit gave publishers inspiration to play their part and the following list is an small example of activities that took place
Events and Awareness Raising Activities
Taylor and Francis: Lunch and Learn
Taylor and Francis Publishing conducted a week-long series of lunch and learn sessions. Every day from 16 to 20 May, colleagues were on hand for 30 minute sessions, which included a 10 minute Q&A. They presented on a variety of interesting and practical topics related to Taylor & Francis's commitment to accessibility, and shared the purpose of GAAD:
to get everyone talking, thinking and learning about digital access and inclusion, and the more than One Billion people with disabilities and impairments
Launch of UK PAAG Linkedin Network
The UK Publishing Accessibility Action Group used the occasion of GAAD to launch its PAAG Linkedin group, encouraging all members of the UK publishing industry to take part in their activities. PAAG is a supportive community that fosters collaboration and encourages companies and publishing professionals in their accessibility journey.
Blackboard Fix Your Content Day
Blackboard brought back their popular Fix Your Content Day, a 24-hour global event committed to creating accessible and more inclusive digital learning content. The objective of the day was to mobilize instructors and staff to fix as many digital course files as possible through Blackboard Ally.
Top Tips
Kogan Page Top Tips
Kogan Page published a series of top tips on social media, opening with Helen Kogan's commitment to accessibility:
Accessibility is important to us and we're proud to have our efforts recognized by Benetech, ASPIRE and more. However the work doesn't end here. We're continuously working to improve and encourage others to do the same
Their top tips included:
Create and promote EPUBs, using the free accessibility checker, Ace by DAISY
Speak to users of assistive technologies to understand their reading needs and engage accessibility experts to help devise a plan of action for creating accessible EPUBs. It's a friendly community!
Test your ebooks on different ereading platforms and devices to get an idea of the different accessibility levels they provide. Your readers will have different needs and won't all be using the same setup.
Tell readers which accessibility features are in your ebooks. This includes having an accessibility statement on your website.
When it comes to improving accessibility for ebooks and websites, small, simple improvements can make a large difference to screen-reader users. You don't need to overhaul your practices overnight. It's more important that you just get started.
Scribely Shorts
Scribely produced a series of top tips throughout the week, advocating for well written and meaningful alt text:
Match the alt text tone/style/voice to the content.
Listen to your alt text read out loud by a screen reader. You'll quickly realize that things like typos are a big problem. Screen readers attempt to read whatever word you type out.
Think about reading order before you write alt text. What information will assistive technology users experience first?
Write alt text like your content depends on it. Because it does! Your content is not complete until it is accessible to everyone.
Webinars
McGraw Hill Education
McGraw Hill organized a session with four panelists on Why Accessibility is Everyone's Business and how the organization's efforts are impacting – and have an even greater opportunity to impact – the lives and learning experiences of others. This was a global event with over 200 employees attending who found the discussions "inspirational and enlightening".
Amnet: Digital Accessibility, No Longer An Afterthought
Presented by Charles LaPierre (Benetech), this Amnet webinar gave an overview of how to start creating better accessible digital content. The importance of accessibility within a digital content workflow was the central focus of this session in honour of GAAD. Amnet is one of our Inclusive Publishing Partners.
Hassell Inclusion
In honor of GAAD, Hassell Inclusion are running a webinar on May 26th entitled 5 Things To Do to get the Accessibility Funding You Need. These proven strategies will focus on how to get the investment and commitment from Senior Stakeholders in your organisation, whether the battle is getting a share of Diversity & Inclusion budgets, showing the Board the difference accessibility makes to your customers or employees, how it can help you sell your products, or demonstrating how your competitors are investing in it.
Blog Pieces and Articles
User Experience Activities
Reading in the Dark
To ignite the senses and imagination a Reading in the Dark event was held at the Turin International Book Fair. By introducing delegates to the experience of reading without any light present, they were able to experience reading with a visual impairment experience. This event was organized by the AIE (Italian Publishers Association) and Fondazione LIA (an Inclusive Publishing Partner) within the framework of Aldus UP. 
ADCET GAAD Challenge
ADCET prepared 3 GAAD challenges for you to test out the user experience for yourselves:
Challenge 1: No Mouse in the House
Challenge 2: No Sound to be Found
Challenge 3: No Peeking, Just Listening
Messages of Commitment
VitalSource
VitalSource, an Inclusive Publishing Partner, tweeted: "Today is Global Accessibility Awareness Day! At VitalSource, accessibility is at the forefront of everything we do through our commitment to create, adopt, and evolve with accessibility standards. Accessibility is a journey, not a destination."
With a quote from Rick Johnson, Co-Founder & VP of Product Strategy
Vendors must design in accessibility from the start, commit to the journey and ensure it is a fundamental part of their DNA
If your organization celebrated GAAD this year and you'd like us to include details of your activities in this post, please contact us with the details!
The image used in this article was prepared by Ruby Curtis-Cowen (creativeusers.net)
https://inclusivepublishing.org/wp-content/uploads/2022/05/rubys-GAAD-e1653660280911.jpg
144
125
Sarah Hilderley
https://inclusivepublishing.org/wp-content/uploads/2017/10/logotype-sized-for-web.png
Sarah Hilderley
2022-05-27 14:01:13
2022-05-27 14:43:08
GAAD 2022: An Overview of Celebrations, Awareness Building and Commitment