Global Accessibility Awareness Day 2019: A Success All Round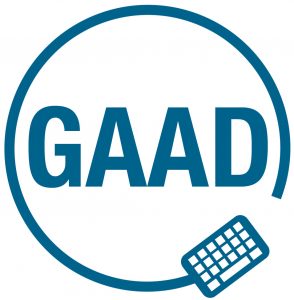 Global Accessibility Awareness Day 2019  (#GAAD) took place on May 16 this year and we put together some tools and resources to encourage partners, publishers and industry bodies to promote awareness. Building on last year's activities we saw our industry actively get involved in educating colleagues and customers and playing their part to increase the availability of digital content to people with print disabilities. We are pleased to say that this good work has not just been confined to one day and we continue to see thought provoking events taking place around the globe.
Selecting a few to highlight in this report:
Houghton-Mifflin Harcourt once again made sure that accessibility was at the heart of their working day on May 16. Combining problem solving discussions with fun activities throughout the day, Katy Mastrocola and team used GAAD as an opportunity to highlight the importance of collective understanding and commitment.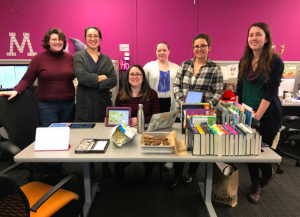 TextBOX Digital made us think about the user experience in a world without image descriptions—a strong and thought provoking message.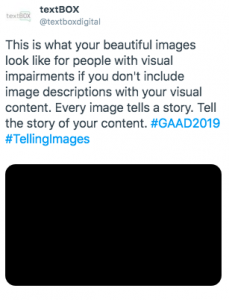 Kobo held a mini-conference in their Toronto offices with an exciting agenda. In addition to some stellar speakers Wendy Reid (Kobo) organized  3 challenges  for colleagues—keyboard navigation, different web views, and screenreader usage. A fantastic way to impart a message and to create discussion.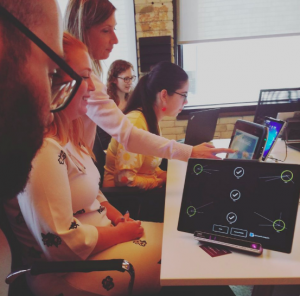 Macmillan Learning continued to show their commitment to accessibility with an interactive workshop Make Some Noise: Design and Build Your Own Educational App with Sonification.  Read about Macmillan Learning's recent announcement —they are the first publishers to gain accreditation through the Benetech GCA program and they published this banner on GAAD to re-affirm their commitment from their CEO, Ken Michaels.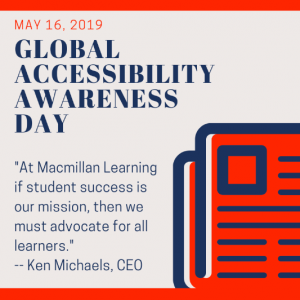 RedShelf prepared a webinar for GAAD—Born Accessible: Ensuring You're Adopting Accessible Course Materials. On college campuses across the country, only half of the students with accessibility needs register with their DSO. How do educators ensure digital course materials are accessible to everyone? This recorded webinar is relevant to any campus, bookstore or publishing professional interested in learning more about accessibility and how it impacts digital course materials.
These are just a few of the fantastic events that took place throughout the day and we hope to be able to build on our toolkit for next year and prepare more resources for you to use. In addition to publishing industry events there was a huge effort worldwide from other digital organizations. Laura Patch, Digital Marketing Specialist, wrote The Power of an Accessible Web—Global Accessibility Awareness Day which reminds us all:
Anyone working in the digital space, from editors and writers to your back-end developers, must hold themselves accountable to make their content accessible to everyone.
Congratulations to everyone who took part in GAAD!
https://inclusivepublishing.org/wp-content/uploads/2019/03/gaad-keyboardlogo-1.jpg
1127
1103
Sarah Hilderley
https://inclusivepublishing.org/wp-content/uploads/2017/10/logotype-sized-for-web.png
Sarah Hilderley
2019-05-13 21:34:08
2019-07-04 16:09:55
Global Accessibility Awareness Day 2019: A Success All Round