Publishing, Accessibility, W3C Standards. Where Are We Going? (W)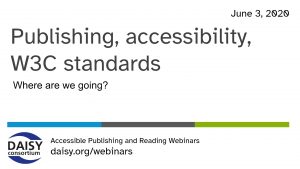 In our series of free weekly webinars  June 3rd saw a session focused on the future of the W3C, entitled Publishing, Accessibility, W3C Standards. Where Are We Going? The EPUB 3 standard can support accessibility to a degree never seen before. It's already the most popular and most accessible publishing standard, but can we do better? Our speakers explored this theme during their webinar giving us an overview of what the publishing industry can expect from Publishing@W3C in the future.
This page contains:
Full Video of the Webinar
Speakers
Richard Orme, The DAISY Consortium—host and chair
Wendy Reid, Rakuten Kobo
Dave Cramer, Hachette Book Group
Tzviya Siegman, Wiley
Session Overview
Wendy Reid, Chair of the Publishing WG and Chair of the upcoming EPUB3 WG at W3C, opened this webinar by giving us an overview of the recent W3C survey conducted to understand how EPUB was being used within our industry. For publishers, EPUB is indeed the format of choice and it is very popular although , overall, it was concluded that publishers need it to do more. There is some misunderstanding about EPUB and better communication and spec improvements are needed to rectify this.
Dave Cramer, Chair of the former EPUB Community Group and Chair of the upcoming EPUB3 WG at W3C, gave us some background on how Publishing@W3C works and how we need to be using the W3C process as a tool to make improvements to our industry standards. The EPUB3 WG has seen 20 years of dedication to the EPUB spec but interoperability challenges, in particular, demand refinement and the new goals for the spec focus on these as well as other overdue alterations.
Tzviya Siegman, Chair of the Publishing WG and member of the W3C Advisory Board, discussed the EPUB accessibility spec—which she hopes will be a formal W3C recommendation by 2021. The EPUB Accessibility Taskforce is also working on a metadata project—The Accessibility Metadata Crosswalk, to identify gaps within the accessibility metadata in major industry standards.
Tzviya also discussed using DPUB ARIA and explained that if you use it correctly, how it can greatly enhance the reading experience for screen reader users. However, if used incorrectly the result can be quite the reverse so she suggests not using it unless competency levels are high.
WCAG Accessibility guidelines expect an update in Q4 2020 with several new success criteria to be included.
Wendy introduced us to the Audiobook specification which is on track to reach recommended status in Q3 2020, allowing for the creation of born accessible audiobooks and providing a mainstream standard for the creation of audiobook titles.
Our presenters gave us many resources and recommendations throughout the webinar and the Q & A at the end was most informative. Make sure you listen to some of the thought provoking questions and our panels expert thoughts on these topics.
Related Resources
https://inclusivepublishing.org/wp-content/uploads/2020/06/futureStandardsv2.jpg
1440
2560
Sarah Hilderley
https://inclusivepublishing.org/wp-content/uploads/2017/10/logotype-sized-for-web.png
Sarah Hilderley
2020-06-15 11:07:19
2020-06-15 11:07:33
Publishing, Accessibility, W3C Standards. Where Are We Going? (W)