Inspiring Words from Industry Leaders: Interview with Julie Ganner, Institute of Professional Editors, Australia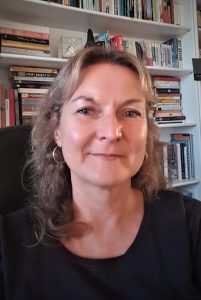 Inclusive Publishing is continuing with its popular series of interviews with industry leaders and their approach to accessibility. Julie Ganner AE represents the Institute of Professional Editors (IPEd) at the Australian Inclusive Publishing Initiative (AIPI), a cross-sector forum launched in 2016 to foster a collaborative, consultative and consensus-based approach to tackling accessibility problems in Australia. Its members include representatives of the publishing industry, authors, agents, editors, designers, indexers, libraries, copyright organisations, disability associations, government and accessible-format providers. The aim of the AIPI is to increase access to published material for people living with print disabilities in Australia.
Designing a book to be inclusive from inception is much more efficient and cost effective than trying to retrofit accessibility features into it later, once you have already published it in other formats.
Julie is the co-author of Inclusive Publishing in Australia: An Introductory Guide, which is available for free download from the AIPI website in EPUB, PDF, Word, braille and DAISY formats.
Why is inclusive publishing important to you and/or your organization?
The AIPI recognises that for publishing to become inclusive, we need to start with a consultation process that is fully inclusive too. Everyone involved in creating, publishing, supplying and using accessible books needs to be consulted about what they need, and how they can contribute, if we are to tackle this issue efficiently as an industry. It's a big jigsaw puzzle and each AIPI participant holds a piece that completes the full picture.
IPEd's participation in the AIPI is a good illustration of the benefits of this collaborative approach. The fundamental task of an editor is to ensure the author's message is communicated to the reader clearly and in full. Editors therefore already have the tools to remove some of the barriers to information access that readers with a print disability can experience, such as missing or inappropriate text alternatives for graphic material. But we can do this only if we're aware of what those barriers are in the first place. Taking part in the AIPI has offered IPEd a great opportunity to hear about and observe the specific problems readers with a disability can encounter when accessing published materials, so we can see how editing practice needs to evolve. And the consultative process works the other way too: it enables IPEd to explain what editors and proofreaders need from publishers and authors if we are to contribute effectively, such as the inclusion of accessibility requirements in editorial briefs and house style sheets.
This inclusive approach was also invaluable when we were creating the content for Inclusive Publishing in Australia. While my professional experience is in traditional book publishing, my co-author Greg Alchin is an inclusive design consultant and disability advocate, so we each came to the project with very different perspectives on what we needed to convey. Into the mix we then added contributions and expert advice from representatives of disability agencies, publishers, editors, designers, indexers and government. This was vital to ensure not only that the information we provided was accurate and workable, but also that it addressed the needs and experiences of everyone involved.
Do you have a top tip for others new to accessibility?
When starting a new publication, plan ahead and consider the needs of everyone who will participate in the publishing workflow. When writing our guide, we focused on workflow planning because we recognised how crucial it is for all contributors to know what is expected of them. This includes not only authors and in-house staff but also the contractors employed on a project-by-project basis, such as copy editors, proofreaders, designers, indexers and typesetters.
What do you wish you knew about accessibility 5 or 10 years ago?
As an editor, I wish I had been more aware of the issues that people with a print disability face when their needs are not addressed during the writing and editing process. It was only brought home to me after I visited the Royal Institute of Deaf and Blind Children's Alternative Format Publications unit and saw firsthand how much work the staff and volunteers do each year to transcribe textbooks into accessible formats, such as braille. Watching a teacher using a screen reader for a digital maths textbook was also instructive, as it demonstrated the need for care not just with the obvious tasks like providing useful alt text but also smaller style decisions, such as how numbers in thousands are set. (In Australia, the convention is to use a thin space to separate tens of thousands rather than a comma. However, a screen reader delivers this as 'ten zero zero zero', so it is clearly time we reviewed this practice!)
What do you think will be the biggest game changer for inclusive publishing in the next few years?
More and more publishers recognising that there is a solid business case for investing in inclusive design.
For those still on the fence, why should they consider accessibility?
Creating books that are accessible to every reader benefits us all: not just the consumer and the community but also the publishing industry itself. We want our content to be read by as many people as possible, and for it to be useful to everyone who does so. Inclusive publishing therefore makes good business sense, as increasing the number of readers who can access your books also means the potential to increase sales. Offering your content only in traditional formats, on the other hand, means you could be missing out on a great opportunity for sales in a market segment that is not well serviced at present.
Why should companies consider publishing a policy on Inclusive Publishing?
Having a policy on inclusive publishing encourages thinking that embeds accessibility into the workflow right from the start. Designing a book to be inclusive from inception is much more efficient and cost effective than trying to retrofit accessibility features into it later, once you have already published it in other formats.
Can you sum up your attitude towards inclusive publishing in one sentence?
Inclusive publishing is simply good publishing.
Do you have any final thoughts on accessibility or inclusive publishing practices you would like to share?
The Chinese have a wonderful aphorism for just about everything. One of my favourites is: 'If you want to go fast, go alone. But if you want to go far, you must take everyone with you.'
https://inclusivepublishing.org/wp-content/uploads/2019/08/ganner.jpg
1829
1223
Sarah Hilderley
https://inclusivepublishing.org/wp-content/uploads/2017/10/logotype-sized-for-web.png
Sarah Hilderley
2019-08-12 13:15:04
2019-08-13 11:20:51
Inspiring Words from Industry Leaders: Interview with Julie Ganner, Institute of Professional Editors, Australia