Do More With WordToEPUB (W)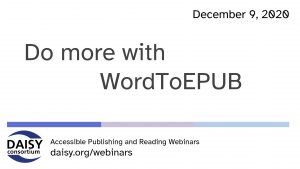 In our series of free weekly webinars December 9th saw a session focused on WordToEPUB.  Following on from earlier webinars, this event gave us a quick refresh, a summary of currently supported EPUB features and then delved into what is new and what we can expect in the future from this ground-breaking software.
This page contains:
Full Video of the Webinar
Speakers
Kirsi Yianne, Celia, guest host
Richard Orme, The DAISY Consortium
Joseph Polizzotto, UC Berkeley
Session Overview
Richard Orme reminded us of the benefits of WordToEPUB with a quick refresh at the beginning of the webinar. WordToEPUB is free to download and use.  If you can start with an accessible structured word document you will end up with a beautiful EPUB that can be used on any platform or reading app.
Supported EPUB Features
WordToEPUB currently supports many EPUB features and these include"
Navigation
Semantics
Accessibility: images and alt text, navigating tables, inline language markup, MathML, low vision friendly fonts
What's New in Version 1.05
Version 1.05 released this month includes the following new features:
New Default Style Sheets
Available out of the box for new installations of WordToEPUB, new default style sheets improve the visual presentation of the EPUB. Including features such as justification options, superscript reference numbers, improved paragraph spacing and better leading the new style sheet option needs to be manually selected for versions of WordToEPUB before 1.05
Faster More Reliable Language Detection
If the user makes sure that the correct languages have been selected within their Word document then WordToEPUB is able to use the improved algorithms to detect language changes, improving the reading experience for readers using Read Aloud or screen readers.
New Options for Page Numbers
Print page tags and custom indicators are now supported, enabling quick and easy navigation to specific locations within the document based on their print page equivalent.
Optional Metadata Summary Page
Ensuring accurate metadata is embedded within EPUB files is recommended good practice, and WordToEPUB now offers the ability to generate a metadata summary page at the end of the EPUB  document to expose this useful information, including a summary of accessibility.
Edit with Sigil
WordToEPUB now offers the workflow option to automatically open the converted EPUB in the Sigil EPUB editor to make any adjustments to the document.
New Quality Assurance Wizard
Another workflow addition allows for the use of a QA wizard after conversion. This wizard is comprised of 4 steps:
Validate the file with EPUBCheck
Launch Ace by DAISY for automated accessibility testing
Check the experience in a reading app – Thorium is a suggested option
Manually check the file for anything further
New Option to Generate Clean HTML Version
This option has been added to the preferences dialog ("select other output formats") and is often used when shorter articles or book segments need converting as they can be opened directly within a web browser. The underlying semantic level is excellent although it doesn't have as many stylistic functions as an EPUB.
What's Coming Soon
To finish the session Richard mentioned a few items which we can expect to appear in the not too distant future:
Improved style sheets with embedded font options
Expandable content in <details>
Support for Math Type expressions
Related Resources
https://inclusivepublishing.org/wp-content/uploads/2020/12/Do_more_with_WordToEPUB_CoverSlide.jpg
1438
2558
Sarah Hilderley
https://inclusivepublishing.org/wp-content/uploads/2017/10/logotype-sized-for-web.png
Sarah Hilderley
2020-12-16 17:46:44
2020-12-16 17:46:44
Do More With WordToEPUB (W)