NNELS Accessible Publishing Summit 2023: Event Overview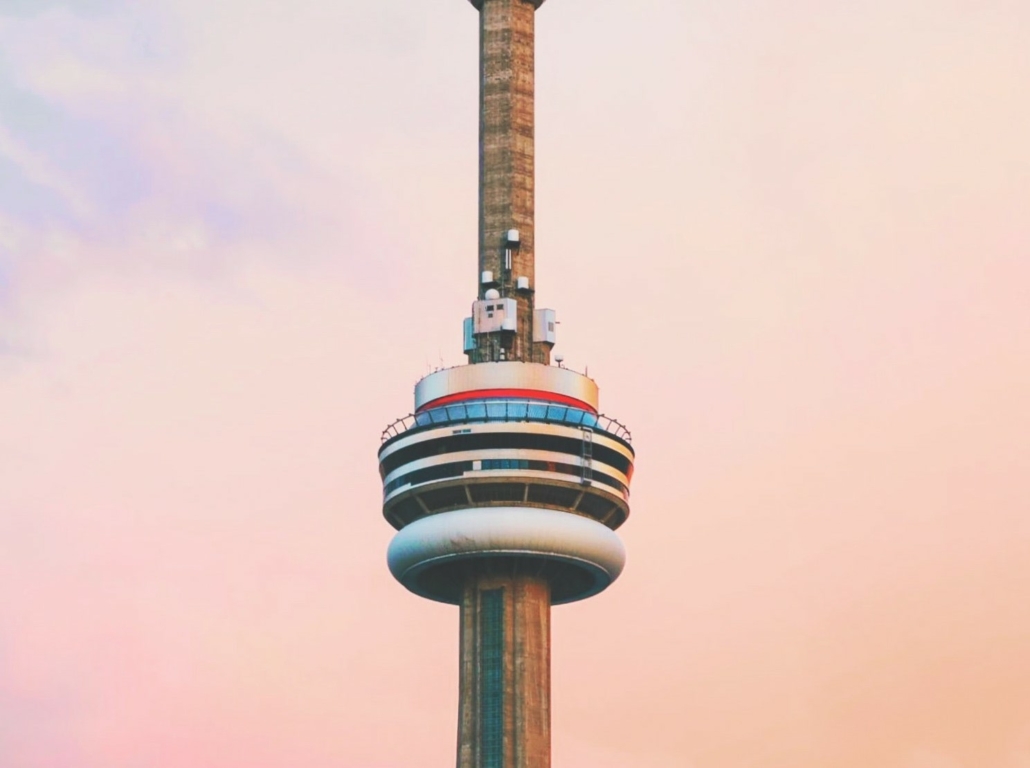 Last week saw the 5th iteration of the hugely successful NNELS Accessible Publishing Summit, held in person once again after 2 years of virtual gatherings. It was wonderful to be back in the same room and be able to catch up with colleagues and friends from the Canadian publishing industry. What this summit always does so well is to bring together communities of people to discuss and share ideas on accessible publishing via panel sessions, demonstrations and presentations, moderated group sessions and working group sessions. NNELS welcomed everyone to the University of Toronto's Chestnut Conference Center, acknowledging the land that we were meeting on and reminding us all of how to take part in an accessible and sustainable event.
The Experience of Readers with Print Disabilties
One of the most successful elements of this event has always been the NNELS tester demonstrations which were as informative and powerful as usual. This year there were 4 sessions, all considering the experience of readers with print disabilities and showing us all how they, as individuals, choose to read and what these choices entail in terms of platforms and assistive technology.
Thorium and NVDA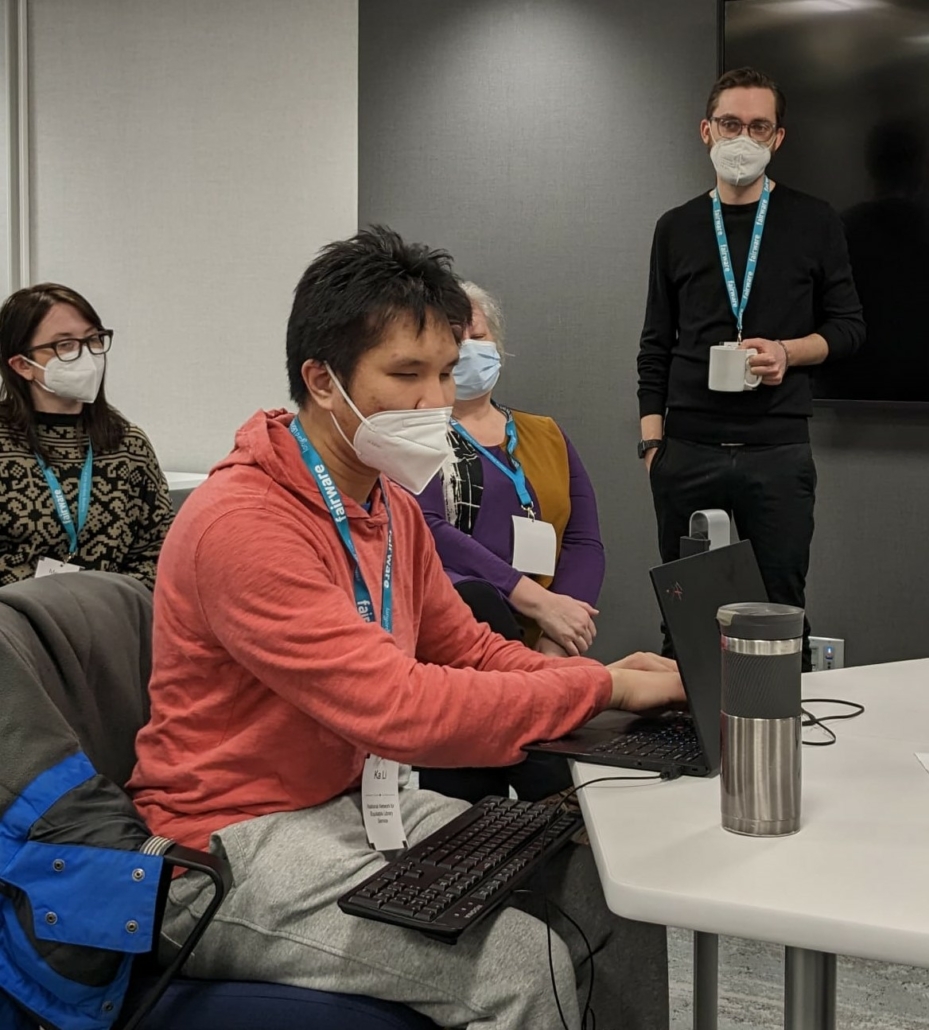 Kai Li, a blind reader, used Thorium and NVDA to show us how he reads – fascinating to experience with him the frustrations he encounters on a daily basis and also what works with his chosen combination of device, screen reader and ereading platform. He is very keen for publishers to remember to include an image description of their book cover which is often forgotten. He is appreciative of Thorium's support of many of the structural elements within ebooks allowing him to "navigate through the book granually".
Apple Books
Tobe Duggan, a visually impaired reader, showed us how he chooses to read EPUBs via apple books and the specific accessibility features that he likes to take advantage of. What this demo really did brilliantly was show us just how many configurations there can be and that these choices are extremely personal and individual. For Tobe "contrast trumps font size every time". This is why he likes apple books so much whereas the contrast on kindle doesn't work so well for him.
Voice Over and the Apple Books App on an iphone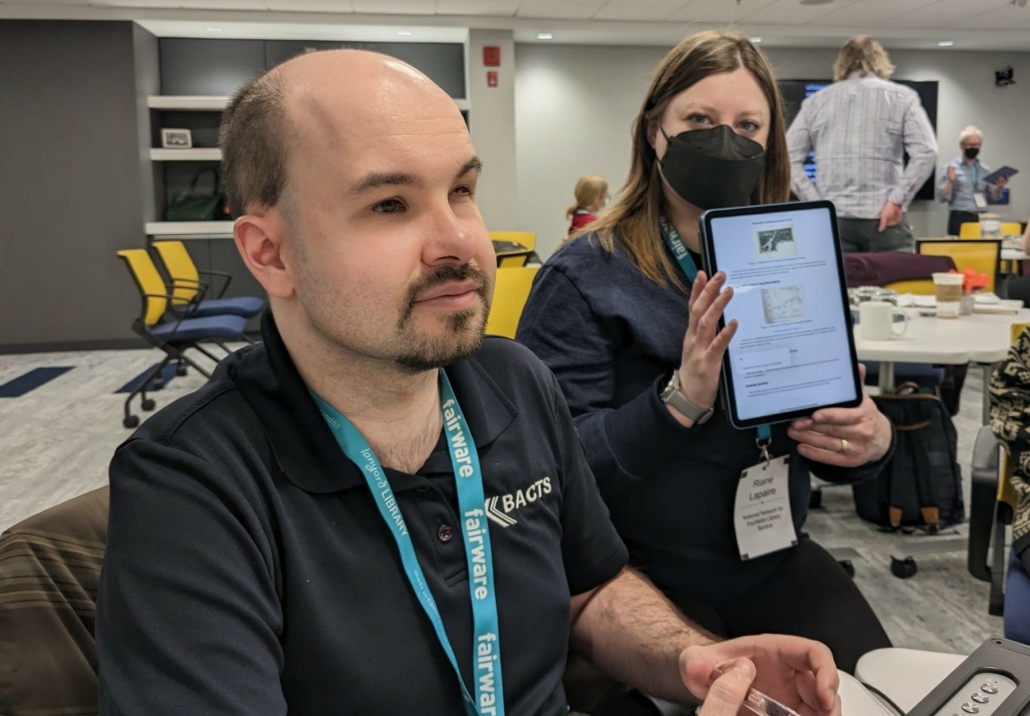 Patrick Bouchard, a blind reader, gave us an indepth overview of voice over on an iphone using the the apple books app, revealing that some features work very well and some absolutely do not. Some items were not announced by voice over (eg block quotes) – an apple issue which needs work as a change in context is good to know about. But voice over reads items such as lists extremely well and this makes organization of information very straightforward.
Bookshelf and JAWS
John Ylioja, a blind reader, gave us a demo of JAWS with Bookshelf, a combination which can be a tad sluggish he finds. Accessibility metadata isn't currently displayed on Bookshelf which would be so useful but what it does do well is to announce change in context, tables, language changes and other accessibility features provided the mark up is good.
Industry Updates and Expert Perspectives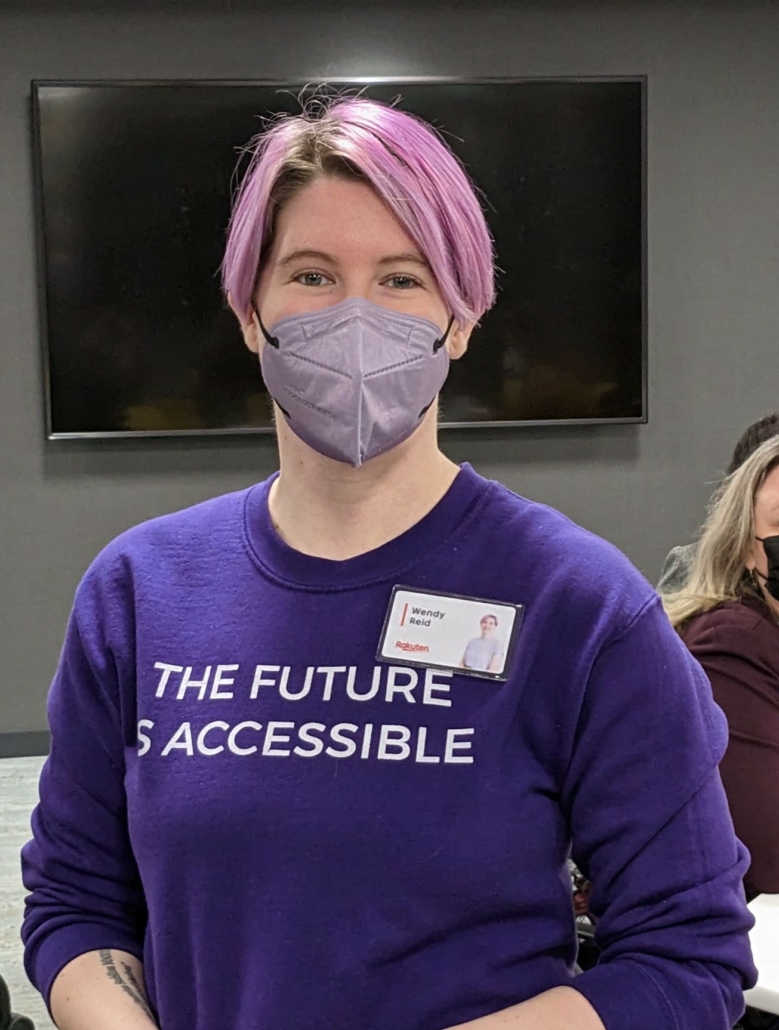 The industry updates and experts perspectives panel was a chance for various organizations to update delegates on what is new and what is on the horizon for accessible publishing. DAISY was pleased to update everyone on current activities and we also heard updates from:
The Publishing Community: eBOUND, Association of Canadian Publishers and Les Éditions David
Alternate Format Producers and Libraries: NNELS, CELA and BAnQ
The Standards Community: Wendy Reid for W3C
Those involved with the Remediation of Education Content: PRCVI and AERO
Public Libraries: CELA, PLARC and NNELS
Goverment: Canada Book Fund (report given by NNELS)
Already a theme was emerging about the need for government funding to continue and whether this was likely in the future. Much good work has been done since the Department of Canadian Heritage announced the $22.8 million dollar funding over the course of five years but whether this is sustainable or not was a hot topic over the 2 days. CBF did make it known that they were hoping for projects focusing on metadata this year.
Working Group Sessions
For the rest of the summit we split into working groups – with the ability to switch groups and join different conversations over the duration. 5 working groups were formed with expert anchors at each table covering:
The Needs of Publishers
Copyright, Licensing and Marrakech
Certification and Quality Assurance of EPUB Files
Metadata: Search, Discoverability and Display
Distribution, Procurement and Platform Providers
Each group had to answer a series of questions via guided conversations which allowed them to reach a "way forward" by the end of the summit. At the end of each session, the groups provided feedback to the wider audience encouraging questions and conversations. Some exciting developments were agreed upon such as the formation of a copyright working group whilst other groups had dual solutions based on whether funding continues.
All groups had extremely fruitful conversations and the collaborative nature of these sessions from all sectors of the industry meant that they were well informed and productive. We very much look forward to being able to report on each of these working group areas in more detail.
Congratulations to the NNELS team for another very successful event. Creating the right atmosphere for this type of working experience is undoubtedly where this team have excelled.
Additional Resources
https://inclusivepublishing.org/wp-content/uploads/2023/02/small-tower.jpg
1109
1488
Sarah Hilderley
https://inclusivepublishing.org/wp-content/uploads/2017/10/logotype-sized-for-web.png
Sarah Hilderley
2023-02-13 21:44:43
2023-02-14 14:35:19
NNELS Accessible Publishing Summit 2023: Event Overview