Image Descriptions: Managing the Process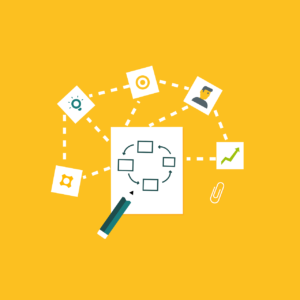 We often encounter the question: "Who should be responsible for producing alt text?" The truth is that there is no one definitive answer. Ultimately, we all need to take responsibility for the accessibility of our publications and image description is a prime example of this much-needed collective approach.
There are many factors that influence how each organization chooses to manage their image description workflows but it is a universal fact that the more intrinsic to the production of content you can make image description, the closer you will be to reaching the ultimate goal of fully accessible content. Wiley's Christina Volpe wrote in her article The Accessibility Domino Run for EPUBSecrets:
Publishing companies consist of multiple layers of colleagues and departments. Whether you work in procurement, legal, HR, product development, editorial, etc. we all have a stake in accessibility outcomes. And the decisions made at various stages of the process will impact others along the way.
A Few Key Factors
There are many workflow issues which will influence your decision on who will be responsible for the production of image descriptions. Some of these include:
The size of your organization is bound to have a huge impact on the nature and set up of your workflows – whether you have an operation that manages much of the work in-house or whether you choose to out source to 3rd party vendors, is often a result of just how many people you have available to "do the work". Writing alt text and checking the quality of these image descriptions is certainly something that can be out-sourced if you have the means and local contacts to do so.
The type of content you are publishing greatly affects how you manage the process of good alt text generation. For example, if you are producing academic texts on specialized subjects, then there is every chance that your preference might be for your author, or subject specialist, to generate the image descriptions. These people understand the specific context to which the image refers and are able to convey the particular meaning that its inclusion within the text is intended. Bill Kasdorf, Accessibility Consultant says:
One aspect that I emphasize for scholarly publishers is the importance of addressing this as early as possible in the publication workflow. Obtaining draft image descriptions at the manuscript stage from authors, who best know what an image in a scholarly publication is intended to convey, enables editors and service providers to perfect those descriptions for accessibility in the context of refining and rendering the content in which the images appear.
Your intended audience most certainly needs to be thought about when you decide how to generate alt text. Children's picture books, for example, by their very nature, are a fine balance between text and imagery and it may well be best for the editorial team to help convey the messaging as they were probably the folks responsible for creating that marriage of author and artist in the first place. They have a unique perspective on the response they seek from their readers. An art book may be best handled by both the editorial and the design team who will know exactly what the reader expects to learn from the renderings.
And of course, budget plays a big part in every decision!
DAISYs Knowledge Base Advice
The DAISY Knowledge Base gives technical guidance on all aspects of EPUB and accessibility including how to go about writing meaningful alt text. This article is not a guidance document about how to go about achieving this but it is worth quoting from the knowledge base about how to make a start as this may well inform your decision about who may take responsibility for this work.
"Writing short and concise alternative text is something of an art, as the information needed from each image is never exactly the same. A useful technique, though, is to try and answer the most relevant who, what, where, when, why and how questions about the image in as few words as possible."
What is the picture?
Who is in the picture?
What are they doing?
Where is this happening?
When is this happening?
Why is this happening?
How is the action being conveyed?
Some of the answers may be not be relevant to the context that the image is conveying but that information may help you to decide who generates the descriptions. Practically, a publisher wants to be able to allocate responsibility for descriptions to a particular team or 3rd party but it may well be a useful topic to discuss at acquisition as it could differ from title to title. The earlier the conversation happens, the better.
Top Tips
These factors aside, there are still a number of top tips that can help to make the process of alt text generation a seamless one. These following points look at a few of the emerging ideas that we have come across:
As well as appointing an in-house accessibility advocate, we have heard of a number of organizations who have appointed Alt Text Champions within their publishing teams. Both Taylor and Francis and Bloomsbury in the UK have found that this focuses colleagues on the importance of producing meaningful image descriptions and gives them a point of contact in-house.
Engage subject specialists where needed – if an author is unable to produce good alt text for academic or non-fiction material then you need to make sure you have a good back up who knows their stuff!
Creating a collaborative approach. Organizations have started to produce their own in-house guidance to help establish the "whys and hows" of image description. It's not easy to convince everyone that a change in workflow or additional tasks are a good idea but providing best practice guidance is a great way to start.
Create a communication center. Whether your authors need a safe space to chat about how to go about producing alt text or whether you need to be able to talk directly to a subject specialist, there are many ways to set up effective communication groups and this helps to share thoughts and ideas.
Advocate for financial support at budget setting time – we need to start thinking ahead and making sure there is an allowance for development funding for accessibility within our organization's future plans.
Think about how to create a repository of image descriptions in-house – whilst descriptions can vary depending on context, it is always useful to have previous work available to refer back to.
Celebrate successes! There's no doubt that some content can make for extremely complicated and intricate image descriptions and it's worth applauding the work of your alt text generators (whichever team they work in) – we've even heard about Alt Text Awards!
Engage with your readers. By collecting feedback on the quality of your alt text, you can improve the good work you have started and demonstrate your organization's passion for accessibility. Chair of the Publishing Accessibility Action Group, Stacy Scott, is passionate about the importance of alt text:
As a blind Mathematics graduate, I could not have engaged in my study, had descriptions of pictures not been made available to me. Pictures are just as crucial as the written word and this is no less so for someone who is unable to see the images through their eyes. So please, add the Alt text, fuel the imagination and make your content inclusive to all.
Our Collective Values
The Scholarly Kitchen's article, An Action Plan for Accessible Images, puts it so well when it describes aligning our values as:
Reaching everyone
Curating user delight
Serving as good stewards of the content we distribute
This is the responsibility of all departments. We can all play a part.
Links and Resources
This article was put together by Sarah Hilderley (Inclusive Publishing for DAISY) who found the following resources really useful:
https://inclusivepublishing.org/wp-content/uploads/2022/08/notes-4156924_1280.png
1280
1280
Sarah Hilderley
https://inclusivepublishing.org/wp-content/uploads/2017/10/logotype-sized-for-web.png
Sarah Hilderley
2022-08-03 00:02:30
2022-08-03 13:44:52
Image Descriptions: Managing the Process