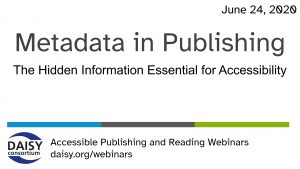 In our series of free weekly webinars June 24th saw a session focused on metadata and accessibility, which plays a vital role in the accessibility ecosystem. Enabling the discovery accessible features within digital content is an essential element to the success of born accessible material.
This page contains:
Full Video of the Webinar
Speakers
Richard Orme, The DAISY Consortium—host and chair
Madeleine Rothberg, National Center for Accessible Media at WGBH
Chris Saynor, EDItEUR
Luc Maumet, Accessible Books Consortium
Session Overview
Madeleine Rothberg's opening call to action:
If you've made a publication accessible, shout about it!
set the tone for this webinar which showed us the various ways that we can utilize metadata systems to help discovery, inform readers and assist procurement of accessible content.
To conform with the Accessibility 1.0 EPUB Specification every EPUB must include various schema.org accessibility metadata points. There are also optional additional metadata elements which publishers are encouraged to make use of. Madeleine described the various types of metadata that publishers need to be aware of: discoverable, accessibility and optimized and the requirements for each.
See the resources section below for the crosswalk documentation on ONIX and EPUB (schema.org & Dublin core) metadata, to sit within the EPUB package and alongside it. It's advisable to have both available for consumers and retailers.
Chris Saynor maintains the ONIX for Books metadata standard which can be used to accompany the EPUB or as a separate feed into the trade. The development of codelist 196 treats accessibility metadata features as granular enabling prospective readers to understand which features in particular are available within content. It is vital that consumers have access to this information before they purchase and the ONIX metadata enables this discoverability. In addition, if distributed within the standard ONIX metadata feed, data aggregators, libraries and retailers can be aware of the level of accessibility of a particular ebook before the book itself is available, and can present this information to potential purchasers and readers within their catalogue.
Luc Maumet talked to us about library metadata and the work of the Accessible Books Consortium and authorised entities who are producing metadata for their ABC catalogue in Marc 21. The two accessibility fields within this system: fields 341 & 532, identify whether a title has accessible content and allows for an accompanying note.
Related Resources
https://inclusivepublishing.org/wp-content/uploads/2020/06/metadata-coverslide.jpg
1440
2559
Sarah Hilderley
https://inclusivepublishing.org/wp-content/uploads/2017/10/logotype-sized-for-web.png
Sarah Hilderley
2020-06-29 21:15:20
2020-06-29 21:15:20
Metadata in Publishing-The Hidden Information Essential for Accessibility (W)