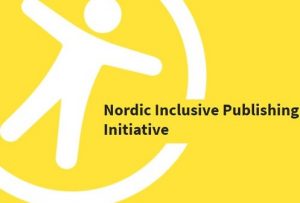 The following report was prepared by Marianne Gulstad and we are delighted to cross-post it here on Inclusive Publishing. Marianne is the EPUB QA Officer at Publizon A/S, a key distributor of digital publications in Denmark.
________________________________________________________
So, back in November 2020 I had a splendid day with my Scandinavian colleagues at the NIPI Include! 2020 conference. About 125 like-minded joined in at 9:30 am and stayed online until the end, at 3 pm. We came from Latvia, Finland, Norway, Sweden and Denmark. Many from MTM Sweden, I noticed – only a from Denmark, which actually surprised me a little … But I was happy to 'see' my former workplace Systime being represented by Claes Sønderriis, with whom I have created many text books for music and physics 20 years ago when I was working there as a graphic designer. It was also nice to see a handful of NOTA-people present, also from Denmark – which I will look forward to getting to know. Well, back to the story: We had a full programme of well-known speakers from the accessible publishing world – and a few new ones (to me, that is) – and they all had important takeaways. I was not disappointed.
Let me enlighten you with my key takeaways – things I did not know beforehand, or statements I find important to know:
Key Points from the Speakers
First up, Molly Watt (accessibility and UX expert):
Not all visually impaired readers prefer audio to text as their first choice
Many visually impaired readers rely on color adjustment, text scaling in order to enhance text visually
When designing reading apps, give users multiple choices for color adjustments, scaling and margins
Richard Orme (cool DAISY dude … CEO of the DAISY Consortium):
Try to think accessibility broader
Focus on visually impared, but also on how physical handicaps and situations can be helped
Understanding who you are doing this for will make you (ebook authors and RS developers) create smarter solutions for ALL users and situations
Daniel Saidi (freelance software engineer):
Being reachable, is not being accessible
Cristina Mussinelli (Secretary General of Fondazione LIA) on what "Born Accessible" means:
Define a specific procedure aimed at defining accessibility checks (internal or external) of the publication
Adopt international standard metadata schemas and distribute them along the value chain
Provide to end users an accurate, but friendly, description of the accessibility features available in the publication
Use the checkers that already exists for accessibility validation, like Ace.
Don't reinvent the wheel – You don't have to go through the same workload that we did. Seek help from organisations that are further in the process, like LIA. We are here to help
Wendy Reid (Accessibility and Publishing Standards Lead at Rakuten Kobo – @wendy_a_reid):
You can now create accessible audio books with W3C Audiobooks specs. Plz, feel free to invent its checker
Luc Audrain (former Head of Digitalization, Hachette Livre):
Lunch Break was Tool Time
I stayed glued to the screen during the lunch break, watching the two tool presentations.
Elisa Molinari (LIA Project Manager with M.A. in Italian literature) showcased some best practice for writing image descriptions, and how not to.
Also from Fondazione LIA was Gregorio Pellegrino (Chief Accessible Officer & Computer Engineer) who showcased how their pilot project can create image descriptions using AI algorithms. Still work in progress but I find this pilot project very interesting. You can find more on YouTube, or contact LIA directly.
Richard Orme showcased how to use Ace by DAISY and SMART to self certify your accessible EPUB publications to WCAG Level AA. If you are an ebook creator, I strongly advice you to see how to use Ace for analyzing your files for accessibility.
How to Accomplish the Move into Accessible Publishing?
Well, some changes are easily implemented, others will take months to get right. But we (the publishing ecosystem) have 4 years to get it right. And like you would begin any new journey – like climbing Mount A11y – or eating an elephant – start with one step at a time. One mouthful at a time. It is important NOT to be overwhelmed, but be excited to begin implementing accessibiliy into your publishing workflow. Start now. Reach out. Take the first step… or bite.
Thank you, NIPI-folks, for a lovely inspiring conference.
(If I did not mention you, I am sorry, you were not boring – I just have an extreme appetite for tech info)
About NIPI
The Nordic Inclusive Publishing Initiative (NIPI) is a Nordic network of governmental agencies committed to provide accessible information, products and services to people with print disabilities.
The Include! Conference aims to connect key participants from the Nordic world of reading and inclusion, with the goal of initiating the joint work on inclusive publishing. #nipi_include!
Go to Programme and Speakers  or YouTube to see the entire NIPI Include! 2020 Conference.
https://inclusivepublishing.org/wp-content/uploads/2021/01/nipi-1.jpg
337
497
Sarah Hilderley
https://inclusivepublishing.org/wp-content/uploads/2017/10/logotype-sized-for-web.png
Sarah Hilderley
2021-01-08 14:46:02
2021-05-03 18:05:32
Event Report: Key Takeaways from NIPI Include! 2020