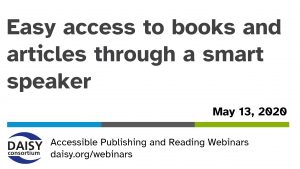 In our series of free weekly webinars May 13th saw a session focused on reading experiences via Smart Speakers and how this has been a game-changer for many already.
This page contains:
Full Video of the Webinar
Speakers
Richard Orme, The DAISY Consortium—host and chair
JoAnna Hunt—Amazon
Kiran Kaja—Google
Scott White—NFB Newsline
Thomas Bryan & Geraldine Lewis—BLVNZ
Sarah Chin & Jarek Beksa—Sonnar
Session Overview
JoAnna Hunt opened this session with an excellent overview of work at Amazon on Alexa, Kindle and Audible and how Alexa can support reading experiences via both. Alexa has the ability to read any book from the kindle library in multiple languages and in local accents, at various speeds. Sync'd perfectly with your other devices, you can easily navigate and pick up where you left off. In addition Audible offers professionally narrated audio books directly through Alexa with the same features available as with your kindle.
Kiran Kaja introduced us to the Google Assistant—your own personal google which will help you across all of your google devices. Google Play Books allows the reader to listen to audio books on speakers, smart displays and on your mobile phone and will read web pages and news when commanded. Available in 42 languages and with speed adjustment features, the Google Assistant offers a multi-faceted reading experience.
Scott White from The National Federation of the Blind introduced us to NFB Newsline and gave us a terrific live demo of how to read the New York Times via Alexa, using Newsline, at various speeds and in several voices. Newsline offers the opportunity to simply ask Alexa to email  a particular article.
Thomas Bryan & Geraldine Lewis gave us an overview of work with smart speakers at Blind Low Vision New Zealand where they have recognized the potential of Alexa to create a library service. Their usability study indicated a number of key findings highlighting the sheer simplicity of the interface and the high level of connectivity that can be achieved for new online users. Support for this new service has been overwhelming with extremely positive feedback.
Sarah Chin & Jarek Beksa, from Sonnar Interactive, were instrumental in helping the team from BLVNZ achieve their goal.  The Sonnar Library offers an all-in-one solution for accessible reading services with a reader, a user and content management system and a content exchange solution that can work with any IT system. Their excellent  live demo ended with an offer for individuals and organizations to access their solution free of charge during the lockdown period.
This session really gave us an overview of how versatile and exciting smart speaker technology can be. Exciting times for anyone working in this field and for readers benefitting from this accessible reading experience.
Related Resources
Links mentioned in the webinar
https://inclusivepublishing.org/wp-content/uploads/2020/05/Smartspeaker1.jpg
1440
2559
Sarah Hilderley
https://inclusivepublishing.org/wp-content/uploads/2017/10/logotype-sized-for-web.png
Sarah Hilderley
2020-05-18 22:05:15
2020-05-25 23:00:28
Easy Access to Books and Articles Through a Smart Speaker (W)