Congratulations go to Hachette Livre and the DAISY Forum of India, worthy winners of the ABC International Excellence Awards at the London Book Fair yesterday.
Luc Audrain collected the publisher's award for Hachette Livre, commended  'for its implementation of "born accessible" production processes in the EPUB 3 format and for its implementation of mandatory accessibility conformance testing for all of its trade publications through the use of the recently created "Accessibility Checker for EPUB"  known as Ace.'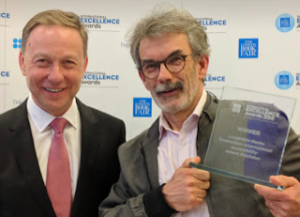 Luc will present a case study alongside last year's winner, Huw Alexander of SAGE Publishing, at the annual AAG Accessibility Seminar at the book fair on the 12th of April.
Dipendra Manocha collected the award for the DAISY Forum of India, winner of the initiative category in which they are recognised 'for the launching of India's largest collection of online accessible books called Sugamya Pustakalay in August 2016, which for the first time created a centralized repository of all accessible books available in the country.'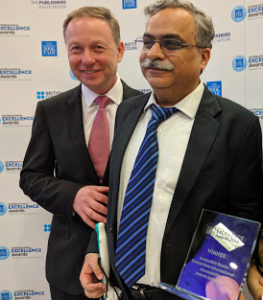 The full announcement is available at the Accessible Books Consortium's website.
https://inclusivepublishing.org/wp-content/uploads/2017/10/logotype-sized-for-web.png
0
0
Sarah Hilderley
https://inclusivepublishing.org/wp-content/uploads/2017/10/logotype-sized-for-web.png
Sarah Hilderley
2018-04-11 17:00:35
2018-04-11 18:31:23
Hachette Livre and DAISY Forum of India Celebrate Success at the International Excellence Awards