Note: this article was first published in June 2018, and received minor updates following a review in December 2018.
Introduction
With the advent of digital publishing and ebooks, the opportunity now exists for people with reading disabilities to enjoy an unprecedented number of books and other publications. Publishers are increasingly adopting standards, techniques and tools to ensure that their titles are accessible.
A digital book will be accessed using a reading app, which is used to open, read and navigate the content. For someone who requires accessibility features, the app may be used together with the assistive features provided through the device's built in software, or with a third-party product like a screen reader or dyslexia support tool.
It is important that individuals and organizations can choose the reading systems that offer the accessibility features they need. These features will vary between individuals, but include support for a screen reader, ability to change the visual presentation of the contents, read aloud feature, feature to enlarge images and so on. More information on how the apps were evaluated using a structured protocol is given at the end of the article.
The results of testing listed below were accurate at time of publication but may not reflect all personal experiences which can be affected by the version of the reading systems, assistive technologies or the publication being read. The apps change all the time, and developers improve the features based on the feedback from our tests. You can always read the latest reviews at: http://epubtest.org/testsuite/accessibility/
Here's our round up of popular EPUB reading apps: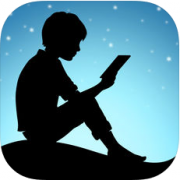 Books from the world's largest ebook store are read using the Kindle app. The app is available on most computer and smartphone platforms, including Amazon's own Fire Tablets. The Kindle app has been evaluated by our testers on iOS, Android, Windows and Fire tablets.
Our evaluators liked: The voices on the Fire tablets are high quality and natural sounding. Your own documents can be easily added to the app by sending them to an email address that is created for this purpose. Support for visual adjustments is good on all platforms. There are useful features in the app such as "word wise" that explains the more challenging words in the book. On some books it is possible to combine the ebook and audio book for a synchronised reading experience (purchases necessary). Titles in the Kindle ebook store indicate whether they are screen reader supported or not.
Be aware: Heading navigation using Voiceover (iOS) or Talkback (Android) is not supported. Table navigation is poor. Image descriptions are not announced using Voiceover or Talkback. There is no built-in read aloud feature in the app on Android, and the Speak Screen feature on iOS does not provide visual emphasis of the words being spoken. Your own EPUB titles cannot easily be loaded into the app.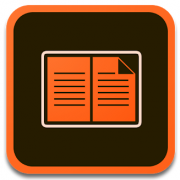 Adobe's reading software is widely used for reading pdf files, but it reads EPUB as well. It is available on most phone and computers platforms. It is often recommended by public and academic libraries.
Our evaluators liked: it is convenient to have pdf and EPUB reading in the same app.
Be aware: Our evaluators found Digital Editions on Windows could be unstable and struggled with larger books. Navigating the table of contents with a screen reader was unsatisfactory. There is no function to change the screen colors or font. There is no read aloud feature.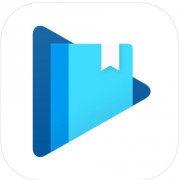 The eBooks from Google's book store app are read in Play Books. This app is usually already installed on Android phones and tablets. The books can also be read using a web browser on Windows, Mac and Chromebook computers. iOS, Android and Windows. Your own EPUB titles can be uploaded to your library through the app or using the Play Books website.
Our evaluators liked: ebooks and audiobooks can be read in the same app. The simple to use built-in dictionary (just highlight a word) may be especially useful for people with specific learning disabilities.
Be aware: Continuous reading with Talkback on Android is not supported, so reading is limited to screen by screen. There is no read aloud feature on iOS. On Android, the read aloud feature could do a better job of pausing between heading and paragraphs, and it is difficult to control where it starts from.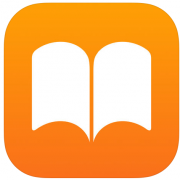 Apple's bookstore uses the iBooks app. If you have an iPhone, iPad or Mac it will already be installed.
Our evaluators liked: the visual display of the title can be adjusted to suit the reader's needs. Some images enlarge to full screen when selected.
Be aware: iBooks is not available on Android or Windows.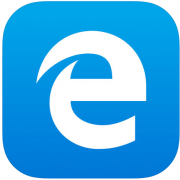 The web browser built into Windows 10 is an ebook reader too! Books from the Microsoft bookstore can be read in the app, and you can also read un-protected EPUB ebooks.
Our evaluators liked: that books can be opened straight from a website or Windows Explorer. The implementation of Read Aloud was praised. The visual adjustments include the ability to increase the letter spacing, appreciated by some readers with dyslexia.
Be aware: the Microsoft Book Store is undeveloped compared to other offerings and may not be available in your country. Whilst the Edge browser is available (in beta) on Android and iOS, this does not include the EPUB reader.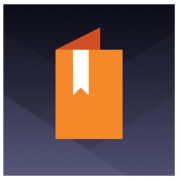 Vital Source is a platform for textbooks and other educational titles. The reading apps are available for Windows, Mac, iOS, Android and via a browser. Your own unprotected EPUB files can also be side-loaded into the app.
Our evaluators liked: a suite of stable reading apps with good support for screen reader  and refreshable braille users. Notes and highlights are synchronised across devices for books from the Vital Source store.
Be aware: The Bookshelf Online platform does not currently offer a Read Outloud feature and there is limited ability to change the fonts and colors. However, Read Outloud and visual adjustment features are available on the Bookshelf iOS and Android apps.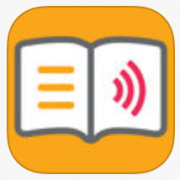 This specialist reading app for Windows, Android and iOS is designed to provide many features required for people with reading disabilities. Several file formats are supported, in addition to EPUB.
Our evaluators liked: Many useful features are provided for people with print disabilities, including screen reader support, several options for visual adjustments and read aloud. The app connects directly to many special library services (you need an account for these) or it can be used to open titles already on your device. The mispronunciation of words by the read aloud feature can be corrected.
Be aware: Continuously reading with a screen reader stops after a few pages due to the way the app displays the title. Hyperlinks are not always followed with the screen reader.
This Android app can be used by anyone, but special attention has been paid to creating an easy interface for a new screen reader user. It can be used to directly connect to Bookshare, Sugamya Pustakalaya, Gutenberg and Dropbox, or it can be used to open EPUB files on your device.
Our evaluators liked: support for Braille displays (including the Orbit Reader) using Brailleback. Functions can be performed with easy gestures as an alternative to navigating the menus.
Be aware: internal hyperlinks are not consistently supported. There is no read aloud feature built into the app for people who do not use a screen reader.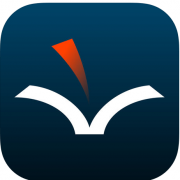 This specialist reading app for iOS and Android is designed to provide many features required for people with reading disabilities. Several file formats are supported, in addition to EPUB.
Our evaluators liked: Many useful features are provided for people with print disabilities, including several options for visual adjustments and read aloud, and screen reader support on iOS.
Be aware: this is a paid for app. The iOS version is more mature than the Android app. Some features are missing that would be important to readers of educational content, such as tables and hyperlinks. Compatibility with Talkback on Android is poor.
How the accessibility features were evaluated
Using the protocol published at epubtest.org, apps are evaluated using a structured framework. This accessibility testing protocol has been developed in collaboration with people with reading disabilities, accessibility experts, and reading system developers. It is an open effort, with the test process described on the website, and more than 50 volunteer testers with different reading disabilities collaborate in the testing effort.
The basic assumption of the approach is that apps should support reading by eyes, ears or fingers. It should be possible for users to read the content by:
adjusting the display such as adjusting font size and colour combination,
reading the text with a screen reader or integrated read aloud feature, and
reading the text on a refreshable Braille display.
The apps are evaluated using different combinations, with and without assistive technology. All reading apps are tested using the same standardized test titles, to ensure consistency. The test files are available from http://www.epubtest.org/testsuite/
The evaluation protocol is free to use, and anyone can evaluate a reading system. If you are an app developer you can ask us to look at your app, and we will report the results back to you.
The latest detailed results for the apps in this round up, and many more, are available at http://www.epubtest.org/testsuite/accessibility/
https://inclusivepublishing.org/wp-content/uploads/2018/06/computer-devices.jpg
281
493
Dave Gunn
https://inclusivepublishing.org/wp-content/uploads/2017/10/logotype-sized-for-web.png
Dave Gunn
2018-06-10 16:47:40
2018-12-07 22:22:26
Reading Apps Accessibility Support Review