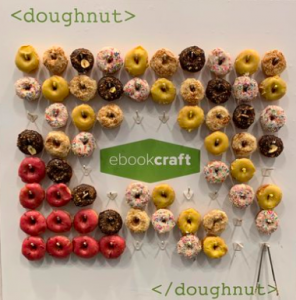 ebookcraft is fast becoming the number one conference for many who work in digital publishing—Laura Brady and the steering committee have, over the years, devised an inclusive, accessible, diverse and unmissable event that welcomes its delegates to Toronto with open arms. From the atmospheric and moving opening ceremony given by Whabagoon, an Ojibway Elder of Lac Seul First Nation,  to the cheeky treats on offer (a.k.a. the donut wall) there was something for everyone and much more besides.
This year saw an increase in focus surrounding accessibility. All of the sessions that I attended referred to inclusivity and accessibility in some way with 4 sessions dedicated entirely to the subject. No other conference does this. No other publishing event puts accessibility centre stage. Is this a sign of exciting things to come? Let's hope so.
Marisa DeMeglio and Romain Deltour, (DAISY Consortium), ran one of the opening workshops: Be an Ally at A11y, looking at the background to technical ebook accessibility and then focusing on the tools that DAISY has developed. Holding the attention of a packed room for 3 hours they deftly walked us through all aspects of accessibility giving resource pointers and demos for everyone to experience how they can include validation within their workflows and what they need to do to achieve this. Ace by DAISY, the free open source EPUB accessibility checker is their creation and news of an updated GUI version was welcomed by the crowd as well as details on SMART, which provides information on manual checks necessary to ensure conformance with EPUB and WCAG requirements. Together, Ace and SMART provide the most complete method for accessibility conformance testing of EPUB publications. Take a look at their slides for all the detail on this session, including useful resource recommendations (such as the DAISY knowledge base) and access to the demos.
Laura Brady (House of Anansi) ran a workshop on Remediating Backlist ebooks with Accessibility in Mind, a subject which we think is going to become increasingly important to publishers as they master their approach to accessibility. There is no quick way to do this but Laura showed us all that there is indeed a straightforward process and that there are things that you can do right now to improve the accessibility of EPUB 2 files, particularly for the less complex content that needs work. Top of Laura's List:
Convert your files to EPUB 3, the number one format for accessibility opportunities.
Other areas for consideration include:
Remove bits and bobs you no longer need

Level up the HTML

Clean markup

Language declarations

Navigation file

Include a navigable Table of Contents

Landmarks

Page list

Semantics – epub:type and ARIA

Have complete and relevant Image descriptions

Include accessibility Metadata
Check out Laura's slides for more detail on this and the rest of her presentation.
Sabina Iseli-Otto (National Network for Equitable Library Service) and Shannon Culver (eBound Canada) presented a review of the work done by the NNELS Accessibility Summit in January in their session Who Does What to Make Great EPUB: How to Build an Airplane in Mid-Air.  The outcomes of this summit are gathering momentum and there are a number of exciting working groups forming that all ebookcraft delegates were invited to take part in. They shared detailed feedback from the summit on how to develop and create accessible EPUB 3 files and what still needs to be done. The challenges are clear (image descriptions, tables , EPUB 2 still in use etc) and the group of people that they drew together in January are a stellar selection of top minds who are enthused and passionate about moving forward.
We want to encourage publishers to move towards born accessible publishing. Accessibility features are good for everyone. 
The slides from this session will give you more information on the achievements of this group.
Kai Li, a visually impaired NNELS employee, talked to us all about his reading experiences in his presentation The Users Perspective: Accessibility Features in Action, affirming in our minds that user testing is going to become increasingly more important as we work on old and new files and formats. He impressed upon us that having people with disabilities in the workplace enhances and improves working practices, giving insights that might otherwise be overlooked.
Fixed layout does not make your books last and it is bad for accessibility. In fact, as screen reader users, every word is displayed on a separate line!
Kai and other colleagues were at ebookcraft to answer questions throughout the conference and we were very lucky to have their hands on knowledge made so available to us all.
The conference ended with the extraordinary news that the Canadian Budget 2019 has announced huge funds to be put towards accessible publishing, confirming to us all that Canada is determined to embrace born accessible publishing.
There are a number of excellent event reports emerging from this two day extravaganza and we recommend these for details on the other terrific sessions. A heartfelt thanks to all who make ebookcraft what it is: the details, the welcome and the healthy attitude to conference planning—an impressive display of thoughtful and exacting organization.
We are looking forward to next year already!
https://inclusivepublishing.org/wp-content/uploads/2019/04/Screen-Shot-2019-04-05-at-09.55.28.png
385
380
Sarah Hilderley
https://inclusivepublishing.org/wp-content/uploads/2017/10/logotype-sized-for-web.png
Sarah Hilderley
2019-04-05 14:18:43
2019-04-17 14:27:24
Accessibility Takes Centre Stage at ebookcraft 2019