Inspiring Words from Industry Leaders: Interview with Huw Alexander, SAGE Publishing
Inclusive Publishing has embarked on a series of interviews with industry leaders and their approach to accessibility.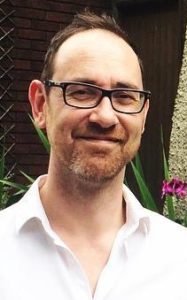 Our first interview was with Huw Alexander,  Digital Sales Manager at SAGE Publishing and winner of the Accessible Books Consortium International Excellence Award at the London Book Fair, 2017. Huw is passionate about accessibility and has worked tirelessly at SAGE to deliver accessible titles to all readers:
"We are dedicated to meeting our customers' needs and we believe in creating a level playing field by ensuring that our publishing is accessible to all."
Why is inclusive publishing important to you and/or your organization?
SAGE is a "leading independent, academic publisher known for our commitment to quality and innovation and for disseminating teaching and research on a global scale." This is the SAGE vision statement and the driving force behind our efforts in reaching accessibility conformance. Our purpose in publishing is simple: we must listen carefully to our customers and publish content that is available to everyone.
On a personal level it is inspiring to be part of a community that is truly making a positive difference.
Do you have a top tip for others new to accessibility?
Fail. Fail again. Fail better. Implementing accessible practices is a learning curve and you will learn from both the failures and the successes. Start small – gradual improvements through low-cost investments will make a huge difference – and make sure that you are able measure the impact of the changes that you implement.
Frame clear, achievable goals for your projects (if we do X then this will improve Y) and ensure that you garner managerial support.
Never shy away from asking for help. The accessibility community is brimming with useful advice and guidelines for those new to accessibility. Everyone is willing to share their experiences.
What do you wish you knew about accessibility 5 or 10 years ago?
How fascinating the whole subject is. Accessibility is often considered to be a niche subject or an afterthought but it really is central to publishing quality content. The technological advances over the last decade are incredible and it is exciting being part of an industry that is changing and developing so rapidly. I am looking forward to seeing what we will be achieving in 10 years' time.
What do you think will be the biggest game changer for inclusive publishing in the next few years?
As the inclusive publishing landscape is shaped by more robust international legal requirements for accessibility we will see publishers and sales vendors embracing accessibility more and more. As the industry standards for content, such as EPUB3.1, become more embedded and new innovative players enter the market with cost-effective solutions to production issues such as alt-text, accessibility will become a standard practice and as essential to navigating a book as a well-structured index.
For those still on the fence, why should they consider accessibility?
They should understand that, for once, the grass is actually greener on the other side. Those publishers that do not embrace accessible practices will find themselves at a commercial disadvantage in the future as new legal requirements stipulate that content must be accessible. Accessibility is a wonderful opportunity to enhance your content, to increase its discoverability and to improve your sales.
How have good inclusive publishing practices influenced the majority of your readers?
Enhancing our products with accessible functionality has greatly improved the user experience for all our customers. Our production processes are continually evolving as technologies develop and we make sure to incorporate user-focused design that improves usability and ensures a consistent level of quality across platforms and devices.
Why should companies consider publishing a policy on Inclusive Publishing?
Drafting a policy on inclusive publishing helps companies to clarify their current position and to identify goals which complement their long-term strategic growth. It provides a yardstick against which to measure your achievements.
It is essential that you are honest and transparent about what you offer. Understand that no company is perfect. Engage with your customers and share the story of how you are striving to improve your content and products.
Can you sum up your attitude towards inclusive publishing in one sentence.
Inclusive publishing encourages innovation and community. More simply, accessibility makes reading better.
Do you have any final thoughts on accessibility or inclusive publishing practices you would like to share?
All publishers will benefit from embedding accessible practices within their workflow. Every small improvement makes a difference to our customers and ensures that publishers, as curators and producers of content, will maintain their relevance for years to come.
Inclusive Publishing would like to thank Huw for taking the time to answer our questions and give us an insight into SAGE's progress and achievments in Inclusive Publishing. We wish them continued success with their excellent work and inspiring endeavours.
https://inclusivepublishing.org/wp-content/uploads/2017/10/logotype-sized-for-web.png
0
0
Sarah Hilderley
https://inclusivepublishing.org/wp-content/uploads/2017/10/logotype-sized-for-web.png
Sarah Hilderley
2017-11-17 17:38:35
2017-11-17 19:19:16
Inspiring Words from Industry Leaders: Interview with Huw Alexander, SAGE Publishing