OZeWAI 2018 Conference Highlights

The OZeWAI 2018 conference, hosted by the ABC in Sydney, has now ended and a great time was had by all. The three-day event is held every year as Australia's dedicated national conference for digital access specialists and is renowned for its great community atmosphere and presentations with this year being no exception. Here's some of my personal highlights from the three days.
The keynote was delivered remotely by Nic Steen out from Knowbility titled No Rights, No Responsibility. The speaker made the point that it is important to ensure that people with disability are included in the digital access processes and that training is critical in making sure that effective digital access is achieved.  
Another great presentation was Here comes WCAG 2.1! by Amanda Mace from Web Key IT and Julie Grundy from Intopia. There was some great discussion across the new WCAG 2.1 Success Criteria, explaining the importance of things like reflow and ensuring that content on mobile devices needs to work effectively for people that may not be able to move their device to activate various sensors. With this year marking the WCAG 2.1 release it was a great introduction as to how the new extensions build on the legacy WCAG 2.0 requirements.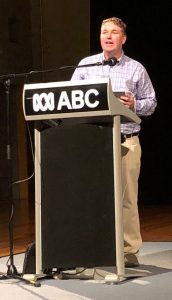 Just before the lunch break on the first day it was my turn to present, discussing the W3C work on inaccessible CAPTCHA. In the presentation I talked about how traditional CAPTCHAs such as the use of text on bitmapped images and audio-based CAPTCHAs are not only inaccessible but also not secure. I also provided an update on the advice our group has been putting together as part of the CAPTCHA advisory note. It was great to have a chance to share the information.
Another session that I really enjoyed was Andrew Downie's presentation titled The Graphics Divide – When the alt Attribute does not Suffice. I'm frequently asked in workshops as to what is best practice when using alternative text, and Andrew illustrated the point well using popular landmarks and providing relevant text descriptions. The key takeaway from his talk is that it's relatively easy to use alternative text for WCAG compliance, but that doesn't mean it's accessible.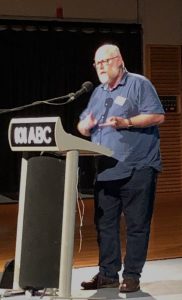 A presenter I always enjoy is Greg Alchin, and he did a great job in discussing the importance of ePub. In a PDF-obsessed world, Greg made the point well that there are a lot of tools and readers available to make the most of the ePub format which is essentially web pages compiled into a document format. While there's still no WYSIWYG editor that works well for the ePub format and this was a point acknowledged as a current restriction, it's encouraging to hear that there are plans for it to be included in the Office suite in the future which will go a long way to addressing this issue. Greg's presentation is available on YouTube.
On the second day I featured in a second presentation hosted by Sean Murphy from Cisco Systems whereby we discussed the accessibility implications of Artificial Intelligence and the Internet of Things. When Sean invited me to join him, he said it'd be great to structure it like a fireside chat, so we had an agreement whereby he would bring the questions, and I would bring the fire. As such, I had my laptop next to me playing a YouTube video of 'HD fireplace with crackle' while we discussed the implications. Sean made several great points about how the quality of data will heavily determine the effectiveness of our AI perceptions and how issues such as security still have a long way to go. I also talked about my Curtin research as it related to the IoT needs of students in tertiary education.
The last presentation that really had an impact on me was Making Chatbots Accessible by Ross Mullen. Until this presentation I had always assumed that chat boxes were largely a no-go zone for accessibility, but Ross explained that if an effort is made then both conversational support and accessibility can be achieved.
In addition to the presentations it was also great to catch up with lots of familiar faces at the breaks and conference dinners. I also really enjoyed making new friends and meeting many of the Alumni from the Professional Certificate in Web Accessibility course.
Special thanks to the OZeWAI committee for putting on such a great conference. If you were unable to get to OZeWAI, you and watch all the session recordings which are now available on YouTube.
This post has been cross-posted with the permission of the author, Dr Scott Hollier, Digital Access Specialist, Author and Lecturer. The original posting of this article is available via Scott's consultancy website.
Images have been reproduced from the OZeWAI twitter account.
https://inclusivepublishing.org/wp-content/uploads/2018/11/OZeWAI_logo-1.png
85
121
Sarah Hilderley
https://inclusivepublishing.org/wp-content/uploads/2017/10/logotype-sized-for-web.png
Sarah Hilderley
2018-11-27 15:13:41
2018-11-27 15:48:54
OZeWAI 2018 Conference Highlights