Event Report: Digital Content & Disabilities Seminar, January 10th
This report was kindly submitted by Nicola Swann from the Publishers Association, U.K.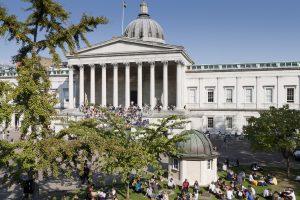 Co-production of resources with those with disabilities and the involvement of the whole supply chain in providing accessible content were two of the main imperatives to come across at a Digital Content and Disabilities Seminar held at University College London on January 10th, 2018.
This seminar was organised as a tie-in with Dr Peter Williams' British Academy-funded post-doctoral research fellowship at UCL, which is examining the impact of mobile technology on the lives of people with learning disabilities.  As one of the seminars and workshops that Dr Williams is running to gather data and disseminate findings, the event brought publishers, university library and learning specialists, community groups, textbook platforms and other suppliers together to explore creating original content to serve disabilities, and adapting content for maximum accessibility.
The first session, looking at original content to serve disabilities, looked at methods, tools and practice, with Professor Barrie Gunter of the University of Leicester in the chair.  First speaker was Dr Williams, who gave an outline of his work on  the digital lives of people with learning disabilities as they use mobiles, laptops, apps and social media.  His project includes a look at prevalence of use, agency (self or supporter), purpose, consequence (benefit/barrier) and ease of use of mobile devices.  Each participant is helping to produce an accessible, annotated hyperlinked electronic archive of their experiences; they have their own web page to record what they enjoy and what they find difficult.  Supporters can comment, with the consent of the person whose page it is.  Issues unearthed include difficulties in finding photos as phones offer no sort mechanism, in using the access code in a supported house, and understanding how music can get onto a phone.  The web material's password-protected, but would be available to academics and other professionals on request (peter.williams@ucl.ac.uk) – and additional participants are welcome.
Philip Gibson, Project Manager for Camphill Village Trust, outlined findings from creating a communication platform for people with learning disabilities.  The key message was 'if you are going to do something, do it co-productively'.    This referred both to the specialist knowledge that may be required to develop electronic resources and the importance of involving all stakeholders, including those for whom the resource is being developed.
Camphill found around three years ago that those with learning disabilities were trying out quite a few digital services – – Skype, email, Facebook, Twitter, Instagram, apps, information sites and bill paying. Most use was via touchscreen device rather than laptop, and was mostly to keep in touch; men particularly also used their devices for games.  Camphill wondered therefore if it was missing options to help users as they mostly did this in traditional ways, though the use of digital was perhaps not as effective as it could be.  It was not clear how users were weeding out misinformation and fake news, and there was evidence that once burned, people quickly shut down if they had problems with issues like signing on, fear of what might happen to personal information and operating hand-me-downs.  Many of those supported dabbled, enjoyed using tech for a while, but then stopped as benefit plateaued.
Camphill is therefore making its own app, CVT Connect, https://www.cvt.org.uk/learn-to-lead/cvt-connect in co-production with users so those within their communities can use them to keep in touch.  More and more are signing up for accounts to use in innovative ways, sharing photos and expressing likes and dislikes.  The challenge now is to make it so interesting that people will wish to use it daily.  Camphill is working on single-click use, tagging, and a less ambitious personal profile; and is keen to share with other charities and community groups.
Dr Yvonne Vezzoli, a learning and communication specialist with the Ca'Foscari University of Venice  @ Go Touch VR, is looking at the visual literacy practices of young people with dyslexia in multimodal digital environments (MDEs).  Her work is based on a strength-focused perspective on dyslexia, viewing it as a thinking and learning difference while not denying the existence of neuro disorders.  She has found that dyslexic teens strongly prefer visuals, knowing they have good skills in retrieving, accessing & interpreting them even though they may have lower skills relating to their production.  Further information on her research is available at   https://www.researchgate.net/publication/319508619_Dyslexia_in_SNS_An_Exploratory_Study_to_Investigate_Expressions_of_Identity_and_Multimodal_Literacies
and at https://www.slideshare.net/secret/x6yPngwhsTM0IP
The second session of the afternoon focused on adapting content for maximum accessibility:  tools, methods and practice, chaired by John Akeroyd, Honorary Research Fellow UCL and CIBER Research.  Tanja Stevens and Lars Christensen outlined the work of their company SensusAccess, http://www.sensusaccess.com/, a subscription service which enables students, faculty, staff and alumni to automatically convert documents into a range of alternate media including audio books (MP3 and DAISY), e-books (EPUB, EPUB3 and Mobi) and digital Braille.  Christensen said that providing accessible content is not restricted to publishers but must involve the whole supply chain; he credited Jisc (https://www.jisc.ac.uk/guides/getting-started-with-accessibility-and-inclusion) with a huge amount of work on technical sticking points, including complex platforms, but felt that inadequate provision of appropriate reading software was often a barrier to what could be a very positive experience for students.
Teresa Pedroso, Disability Librarian for the Bodleian Libraries, outlined the opportunities and challenges digital presents to those with accessibility needs; it is a mere 40 years old compared with print so presents a great opportunity to explore, despite the drawbacks.  The Bodleian subscribes to 1,300 databases with a variety of accessibility features; users have to learn how to use them as well as staff.  Issues include referencing in non-paginated monographs (though a lack of pagination leads to better visibility and flow).  Readers with disabilities prefer flexible provision of both print and digital; some value the lack of a wait time, where others find the flicker of digital off-putting.  How does a librarian decide between a need and a preference?  Questions apart, accessibility is making an appreciable difference – Questions apart, accessibility is making an appreciable difference – 20 years ago staff and volunteers had to produce everything the Bodleian needed to enable work with a blind academic; now 80% is sourced from the university's collections, liaison with publishing houses or using materials the library already has.  The DAISY Consortium CEO Richard Orme pointed out that the tech and frameworks exist to enable accessibility; parties should work together to enable accessible metadata and the balance should shift towards mainstream provision (born accessible), though special repositories will likely be needed for a while.
Emma House, Deputy CEO of The Publishers Association, gave an update on the publisher perspective on adapting content.  The challenge is to make all published outputs available to anyone who has a print impairment, for commercial, ethical and legal reasons.  She outlined the relevant legislation both existing (on the PA website at https://publishers.org.uk/activities/campaigns/accessibility/guidelines/) and to come, flagging the European Accessibility Act and the Marrakesh Treaty as the legislation to monitor as it is implemented.  Marrakesh is regarded as a real triumph. One exceptional concept in this Treaty is the enablement of cross-border access to works; an IPO consultation is awaited on the changes needed within UK legislation to implement it.  Remaining to-dos include promotion in the user community on what's available; publishers' inclusion of accessibility in ONIX feeds; and publishers' building accessibility into the mainstream.  Emma's presentation is on the PA website at https://www.publishers.org.uk/activities/campaigns/accessibility/events-and-presentations/
A video from Ben Watson, Accessible Information Project Adviser for the University of Kent, described building ramps and lifts for digital information with the OPERA project https://www.kent.ac.uk/studentsupport/accessibility/opera.html.  This project promotes inclusive design and assistive technology, aiming to mainstream accessibility – shifting the culture from adjustment for individuals via inclusive learning plans towards anticipatory reasonable adjustments and inclusive practice by design.
A lightning talk from Heather Smith of the National Trust highlighted the importance of working direct with disabled people, and one from Barbara Denton of the University of the Arts London flagged the digital accessibility centre http://digitalaccessibilitycentre.org as a helpful external testing company; UAL has had a culture change as the benefits of accessibility for cohorts with a higher proportion of students with disabilities than most have become apparent.
Resources
https://www.cvt.org.uk/learn-to-lead/cvt-connect
https://www.researchgate.net/publication/319508619_Dyslexia_in_SNS_An_Exploratory_Study_to_Investigate_Expressions_of_Identity_and_Multimodal_Literacies
https://www.slideshare.net/secret/x6yPngwhsTM0IP
https://www.jisc.ac.uk/guides/getting-started-with-accessibility-and-inclusion
https://publishers.org.uk/activities/campaigns/accessibility/guidelines/
https://www.kent.ac.uk/studentsupport/accessibility/opera.html
http://digitalaccessibilitycentre.org
https://inclusivepublishing.org/wp-content/uploads/2018/01/UCL_Quad52.jpg
2866
4298
Sarah Hilderley
https://inclusivepublishing.org/wp-content/uploads/2017/10/logotype-sized-for-web.png
Sarah Hilderley
2018-01-17 13:19:28
2018-01-22 17:49:41
Event Report: Digital Content & Disabilities Seminar, January 10th