Accessible Publishing and the Marrakesh Treaty—Are you Ready? Event Report from LBF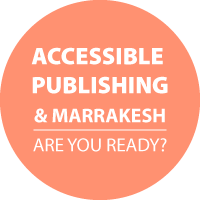 This year's Accessibility Action Group seminar was held on Thursday 14th of March at the end of the London Book Fair. This didn't deter delegates in the slightest and the seminar was a huge success—The Faculty was packed and no-one was going anywhere until they were up to speed with what is happening with accessible publishing in the U.K.
Emma House, Deputy Chief Executive of The Publishers Association kicked off proceedings with an update on the legal state of affairs in the UK specifically with regards to the Marrakesh Treaty for Visually Impaired Persons and the new European legislation that has been welcomed by FEP in the last two weeks. Publishers have an obligation to make their content available to people with print disabilities. Consequently,  it remains within their interest to make sure that their mainstream digital content is fit for this purpose. If workflows and supply chains are able to embrace this notion then the need for specialist formats will become obsolete and business practices will become more cost efficient and timely.  With the opportunity to increase the size of markets, the business case is clear although different for the huge variety of publishing businesses out there.
The seminar was designed to encourage publishers to build accessibility features and functions into their products from their very inception so that they are complying with the law and benefitting all readers with well built, well-structured EPUB files.
Three case studies were presented from Kogan-Page, Macmillan Educations and Penguin Random House showcasing a real cross-section of the publishing industry, highlighting the opportunities and challenges that still present themselves and ultimately leaving our audience encouraged in the knowledge that accessible publishing is achievable and well within their grasp.
Martin Klopstock and Arthur Thompson from Kogan-Page are truly committed to producing "born accessible" content that is suitable for all their readers, regardless of their disability.  The availability of relevant standards and documentation are a huge motivating factor for them and, together with the Ace by DAISY,  free EPUB accessibility checker they have found that validation is a straightforward component of their digital-first workflow at Kogan Page. They identified 4 areas of focus within their case study: structural semantics, accessibility metadata, image descriptions and tables with the latter 2 items still challenging them in-house. That said, Kogan Page are indeed producing born accessible digital content within their digital-first workflow and plan to look towards their legacy content in the future. For more information on their methods and lessons learnt you can access their full slide deck here.
Astrid DeRidder from Macmillan Education took the stage next and began by discussing the ASPIRE project which was the first large scale interactive ranking of publisher and platform accessibility data. Macmillan scored well and Astrid urged delegates to take the opportunity of this easy win and improve their own accessibility information that is available within their organisation. Important to Macmillan is their forthcoming Employee Disability Network which will greatly influence how accessibility is viewed within the company and the quality of the digital content being output.
Finally, Simon Mellins from Penguin Random House gave us the trade viewpoint, talking about accessibility on a large scale basis and highlighting the opportunities and challenges that EPUB presents for accessible publishing. With its natural aptitude for accessibility EPUB 3 is becoming more mainstream but, ironically, workflows in-house are fairly rigid and it is difficult to influence change on such a grand scale. The opportunity has been recognised, though, and whilst image descriptions remain the biggest challenge, there is much underway at PRH which we should watch out for in the future. Simon's complete slide deck is available here.
Sarah Hilderley, editor of the Inclusive Publishing website and newsletter, a DAISY Consortium initiative, rounded this event off by giving a brief overview of the state of play with regards to accessibility internationally. She referred to their recent survey on content creation and validation and was pleased to report that 62% of those surveyed are adhering to the EPUB 1.0 accessibility specification and that 54% are using, or plan to use in the near future,  Ace by DAISY for their automated validation. This is very encouraging—publishers are taking accessibility seriously and the tools and standards available to them are providing them with confidence and reassurance that goals are being met.
"Accessible publishing is good publishing after all."
This event report was prepared by Sarah Hilderley from Inclusive Publishing for the Publishers Association with whom it has been cross-posted.
https://inclusivepublishing.org/wp-content/uploads/2019/03/Website-avatar-200x200-LBF-Accessibility-Seminar-2019.png
200
200
Sarah Hilderley
https://inclusivepublishing.org/wp-content/uploads/2017/10/logotype-sized-for-web.png
Sarah Hilderley
2019-03-27 13:51:15
2019-03-27 13:51:15
Accessible Publishing and the Marrakesh Treaty—Are you Ready? Event Report from LBF